I was in the mood to do some Christmassy tags on the blog for this season, so I decided to start with The Christmas Tag. It looks like this particular set of questions was developed back in 2012 HERE. I decided to skip a couple and add a few more on my own at the end.
What is your favorite Christmas film?
This is always such an easy question for me. Since I was a kid it's always been The Santa Clause. There's something about this movie from the very first sounds of the opening song that just get me every time. I don't watch the sequels every year but I do every few years (they're not great lol the second one isn't TERRIBLE). I'd have to say my second favorite Christmas movie is definitely National Lampoon's Christmas Vacation – just SO funny.
Have you ever had a white Christmas?
Oh yes, that's one major benefit of living here! I will say that the amount of white Christmases has decreased in recent years (sup global warming) but it IS the best way to have a Christmas in my opinion. My ideal situation is that it snows December 23rd and stays on the ground but doesn't snow MORE on the actual holiday. I got places to go, ya'll.
Where do you usually spend your holiday?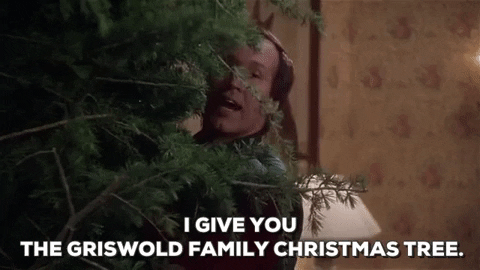 Phew so we do a lot of running around – too many parents to see. On Christmas Eve, both my dad's family and Chris's family get together, so we try to finagle both. Typically we hit my dad's house first and then head to his parents' house after depending on the timing of everything. For Christmas morning, we open gifts from each other at home when we wake up, have cinnamon rolls, and get ready. We go to my nana's house in the morning to see my mom's side of the family, have a nice roast beef, and then go back to my dad's house. We exchange gifts with my dad, sister, and stepmom. Sometimes we go back to Chris's parents' house but I think this year we'll head to our house.
What is your favorite Christmas song?
Again, like with my favorite movie, no contest: Merry Christmas, Happy Holidays by NSYNC. It's just my absolute favorite, and I make sure its the first holiday song I hear each year. I enjoy their whole holiday album the most, followed by Hanson's Snowed In album. I enjoy the classics though too!
Do you open any presents on Christmas Eve?
Yes, we recently started doing this! I think Chris's family used to open all of their presents that day for some reason. Now, Chris and I exchange ONE gift on Christmas Eve and leave the rest for when we wake up in the morning. We also do some white elephant exchanges sometimes, so technically we open 1-2 gifts from those Christmas Eve parties too.
What holiday traditions do you look forward to each year?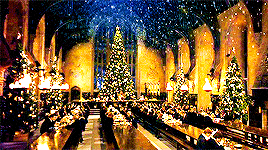 I'm just such a huge fan of the whole season. I love having the decorations and tree up in my house (and at my office!) to feel Christmassy at all times. We listen to Christmas music at work from right after Thanksgiving through the end of December. I watch allll of my favorite movies, plus all the new Hallmark movies, every year too. There's something just SO damn cozy about having a lit Christmas tree in your living room!
Is your Christmas tree real or fake?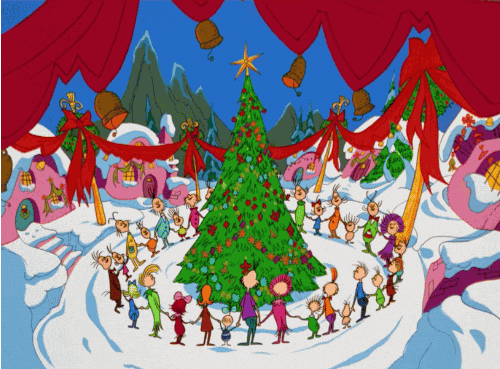 My parents were always super into real Christmas trees, luckily, so I grew up with them. My dad's wife always has fake trees because of the cats so his house has a fake, and my mom's has a real. Chris and I have gotten a real tree every year we've been living together except for ONE – and that's only because we lived in a huge apartment building in the city and didn't want to bring it up the elevator. We got a small fake one. We were also going to be going home for a super extended holiday period and the tree would 100% have died while we were gone!
What is your favorite holiday food or treat?
My aunt makes amazing cheesecake that I look forward to every year! I otherwise really love hot chocolate (especially with peppermint vodka at parties!) and seasonal coffee drinks from Dunkin or Starbucks. Holiday treats from Trader Joe's like Jingle Jangle, their new trail mix, you name it. My favorite sweets for this time of year are Reeses Trees and chocolate covered cherries.
Do you like giving or receiving gifts better?
I'll be honest, gift-giving stresses me out. Some people I shop for are really easy and some are SO hard. My parents all have such distinct interests, favorite sports teams, etc. and yet they have EVERYTHING already. I just get really nervous about if people will like what I got. I love shopping for Chris, his sister, my sister… but the parents (all million of them) are hard. I do love opening gifts, not because I'm selfish, but because it's nice to see that someone saw something and thought of me.
What is the best Christmas gift you've ever received?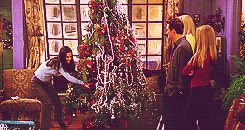 I honestly don't think I could pick one gift. My parents have always been overly generous over the years, including stereos and laptops and giant Lego sets… just very lucky and blessed. I will say that I'm always happy to get Panthers clothing!
What is your dream place to visit for the holiday season?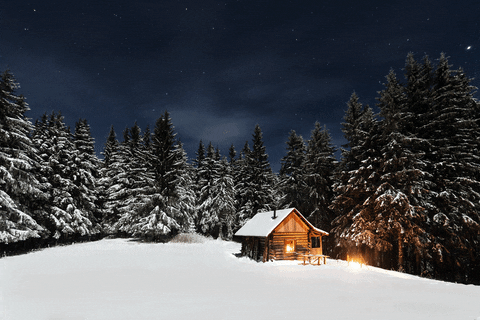 I'm a huge fan of snow on Christmas, obviously, so anywhere like Aspen (or elsewhere in Colorado), Utah… those kinds of ski-heavy places would be lovely. My dream is to rent out a super snowy cabin on a mountain at some point, or enjoy a fancy ski lodge like on Boy Meets World lol. I've always wanted to see Disney during Christmas as well, even though warm weather is not what I'm usually looking for in December!
Are you a pro present wrapper or fail miserably?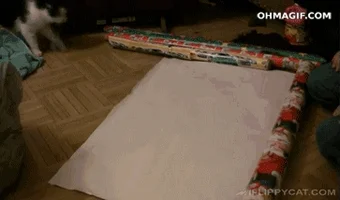 I am VERY BAD at wrapping presents. I'm horrible with cutting the paper and getting things to line up nicely, so all of my lines end up wonky and weird looking. I also have to say that I'm pretty lazy and don't exactly care that much about wrapping things nicely, so that's part of my issue.
Most memorable holiday moment?
Hmm, I guess I would say that visiting Freeport and LL Bean around the holidays when Chris and I were living in Maine was pretty great. They really decorate that town nicely; we loved it. They had reindeer, lights, and a lot of decor around the LL Bean flagship store. So pretty!
When did you realize the truth about Santa?
I don't really remember. I feel like my interest in Santa kind of faded when I reached a certain age and my dad, without realizing anything, kind of quit the charade? I was almost casually told by my dad at the same time I had been realizing it on my own.
Do you make New Years resolutions?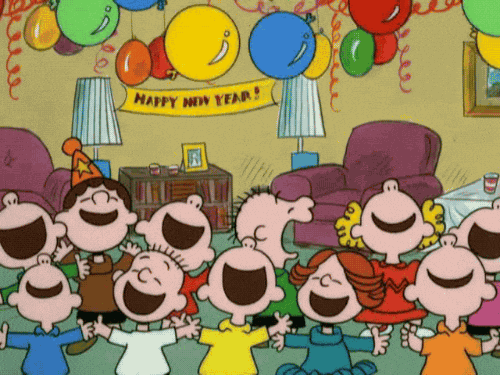 I kind of do but it's more just the reinforcement that I have to set some basic goals and try to strive for them. Time and years are so arbitrary that you don't need a new year to start fresh, but it's a good starting point for things if you want to track them. So, long answer short – kind of. I always have general goals and resolutions for the blog, new yearlong reading challenges, and some personal things to think about.
Related Posts