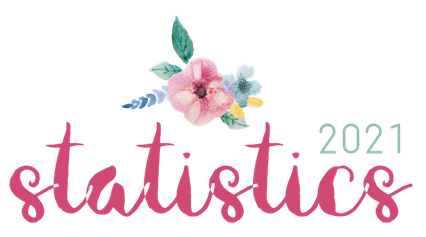 75 Books Read
Reading what I wrote here for last year's EOY wrap-up and just shaking my head. I complained about my 100 books read in 2020 and then 2021 was like "hold my beer." I'm happy that I was able to even pull this off after reducing my challenge. Without further ado, here's my little breakdown as usual!
Books Read
I think this is one of the first years I actually read a solid less than 50% of contemporary! Crazy! I know it's because I did a lot of mystery/thrillers and even more nonfiction than usual (aka cookbooks…) but I'm just really impressed with myself.
Even when my reading is shitty, I try to keep up with my review copies as best I can. I also prioritize them because I have to really want to read a book to request it from the publisher. Therefore, most of my anticipated reads are egalleys before I eventually buy and add a physical copy to my shelves. The rest of the breakdown isn't surprising but it's wild I didn't read a single physical ARC this year. I just didn't request any!
I did most of my reading at night on my Kindle so this isn't surprising… coupled with the fact that I read mostly egalleys this year. Most of the physical reads are cookbooks too lol.
Well clearly I'm consistent! Most books I read are in the 300 page range. Those under 300 pages are novellas, cookbooks, and some contemporary fiction probably. I'm impressed I managed to read some larger books this year too since my overall reading life sucked. It took me like 7 months to read one!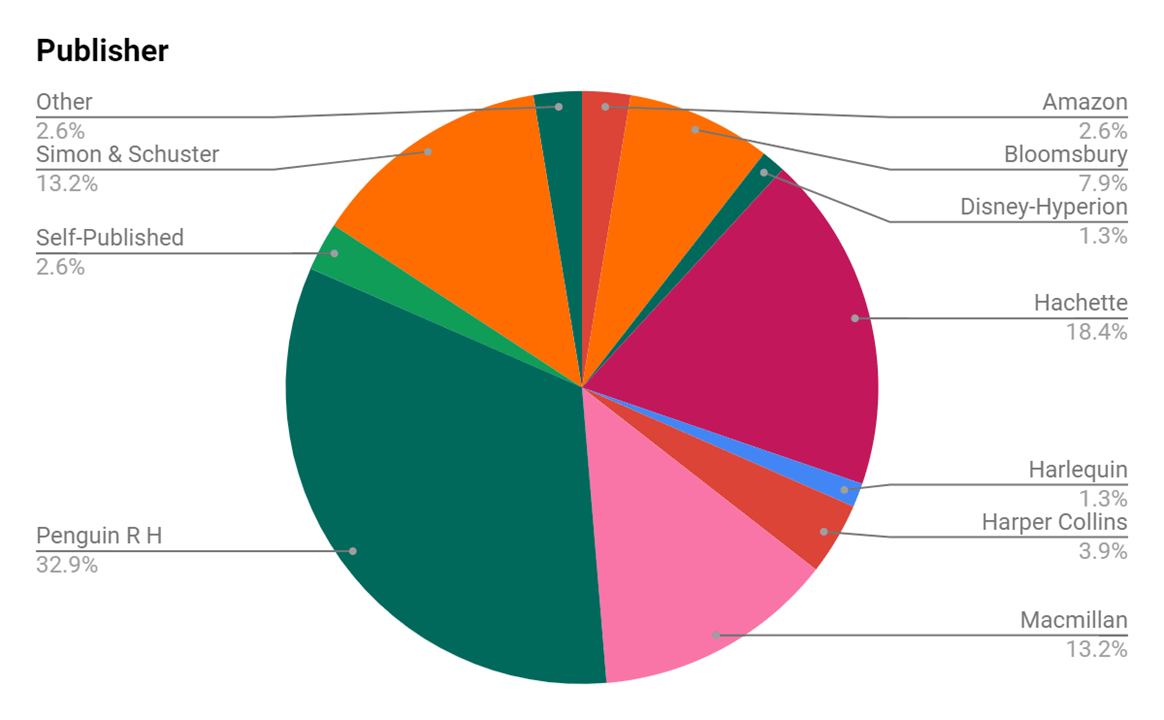 This is a logical breakdown based on what you'll see in my acquisition section. I request egalleys most often from Penguin and Hachette. I did a good job of catching up on past releases as well, so that's why Hachette aka Forever Romance was second here.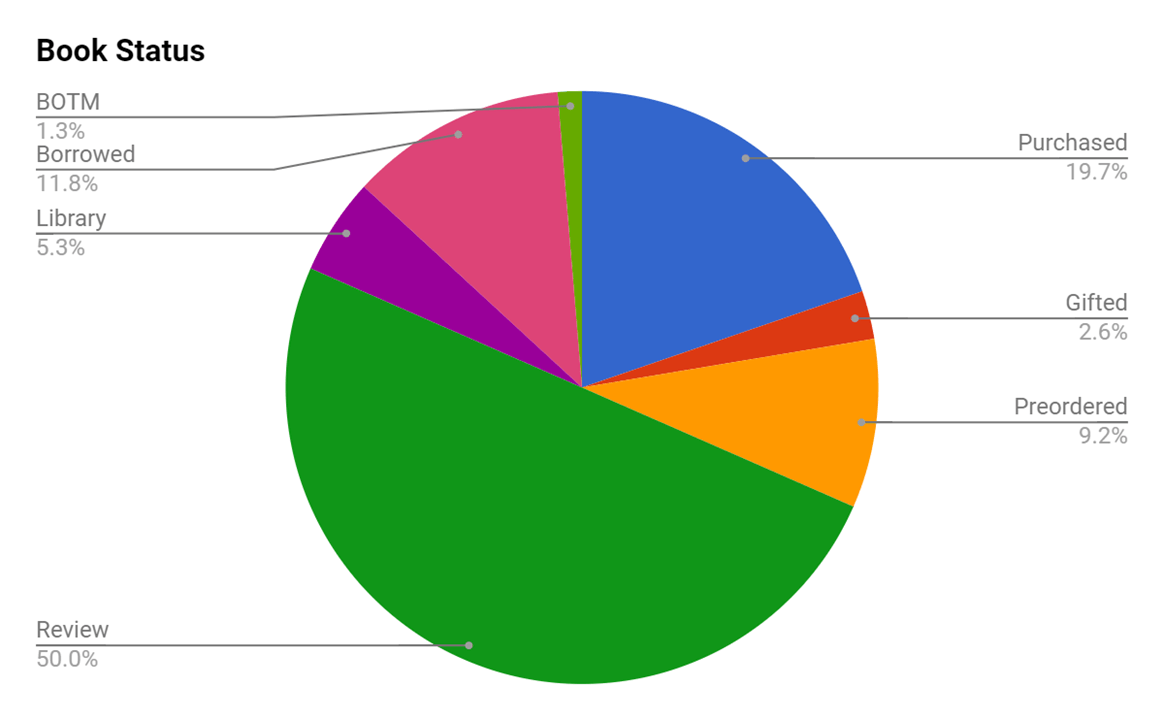 This is fun. I read exactly 50% review copies, which isn't surprising, but the rest of the breakdown is interesting. I managed to read a good amount of books I purchased (preordered or purchased in general). I need to better streamline my labels for next year because I'm guessing "Borrowed" means the book is from Scribd or something?
I read mostly on my Kindle so this isn't surprising at all. Scribd comes into play here as well as some other library-oriented apps like CloudLibrary. "Mixed" means multiple formats: that's usually when I read a physical copy of a book that I own and also listen to the audiobook on Scribd, for example.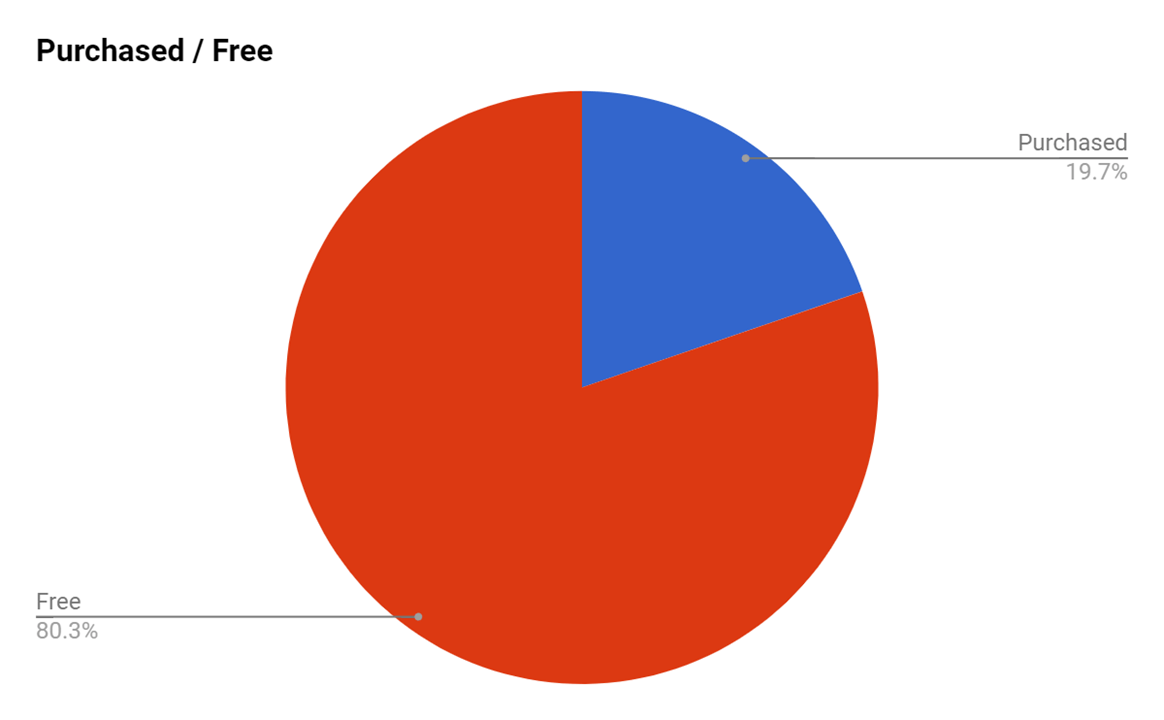 Yep, lots of egalleys, library books, and audiobooks on Scribd for me this year. I really need to read more owned books… ugh.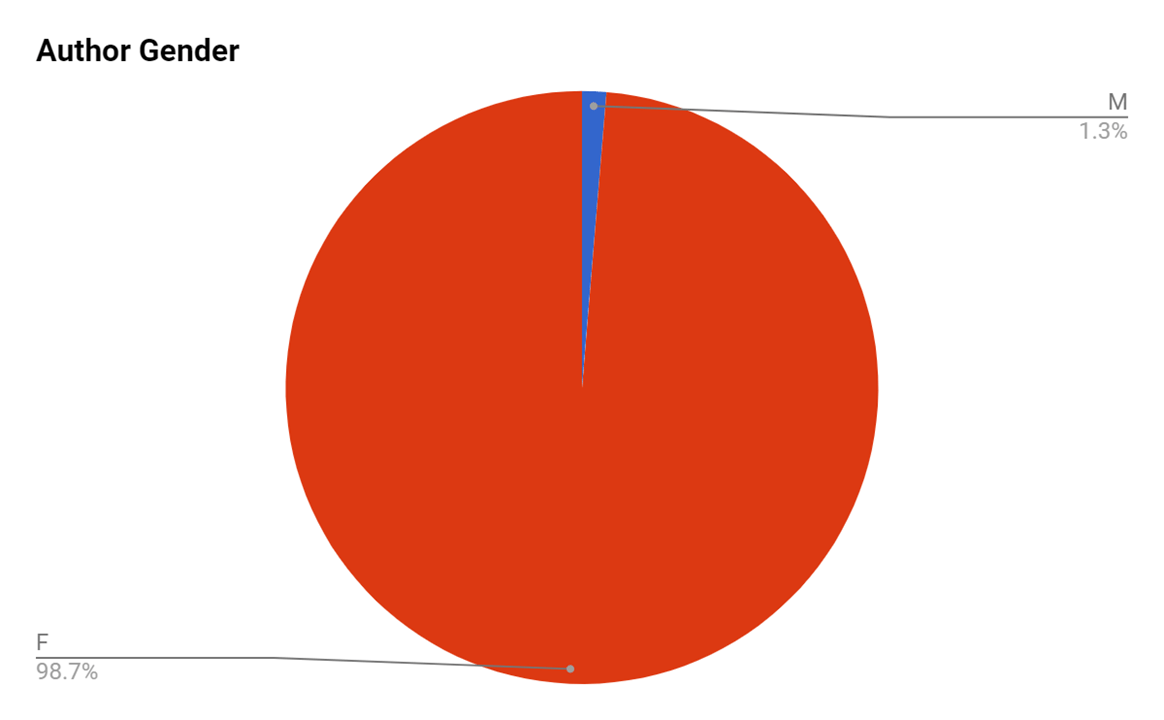 You truly love to see it. I'm incredibly not surprised – I focus on female writers all the time. I can't even think of male-written books I read… maybe a cookbook? lol.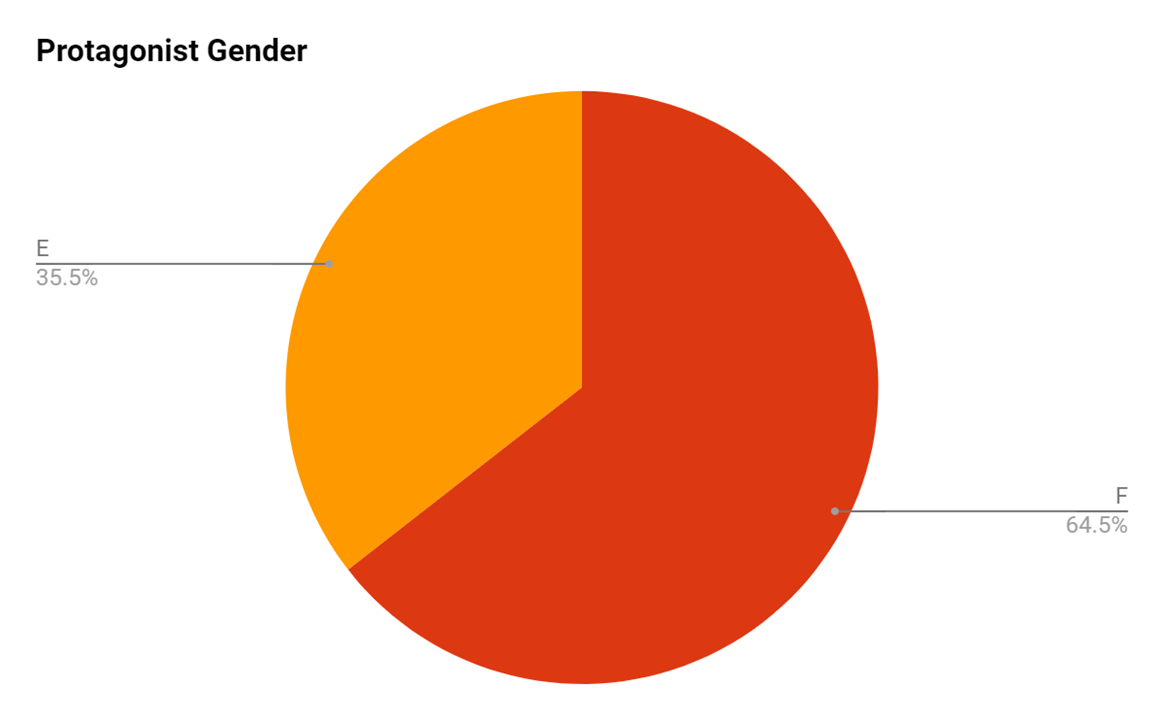 I also read a lot of books with women as the main character! I didn't read a single book this year with a male main character by himself. The "E" is for ensemble cast, meaning multiple points of view including a man.
It's really crazy how few YA books I've read in the past few years! I know it's because I'm ~growing up~ and my interests have changed, but it also is because I request more adult contemporary fiction from Netgalley (like by Berkley and Forever Romance publishing).
I think publishing is coming a long way with being more inclusive but of course there's more to be done. Same can be said for my reading habits. Just under half of the books I read featured some amount of diversity. "Limited" means that there's no intersectionality or just a side character or two features an element of diversity (racial, sexuality, religious, etc.).
I read a lot more standalones because I'm a contemporary fiction reader, but I'm loving all of the companion series within the contemporary genre these days. That probably accounts for most of the series I read.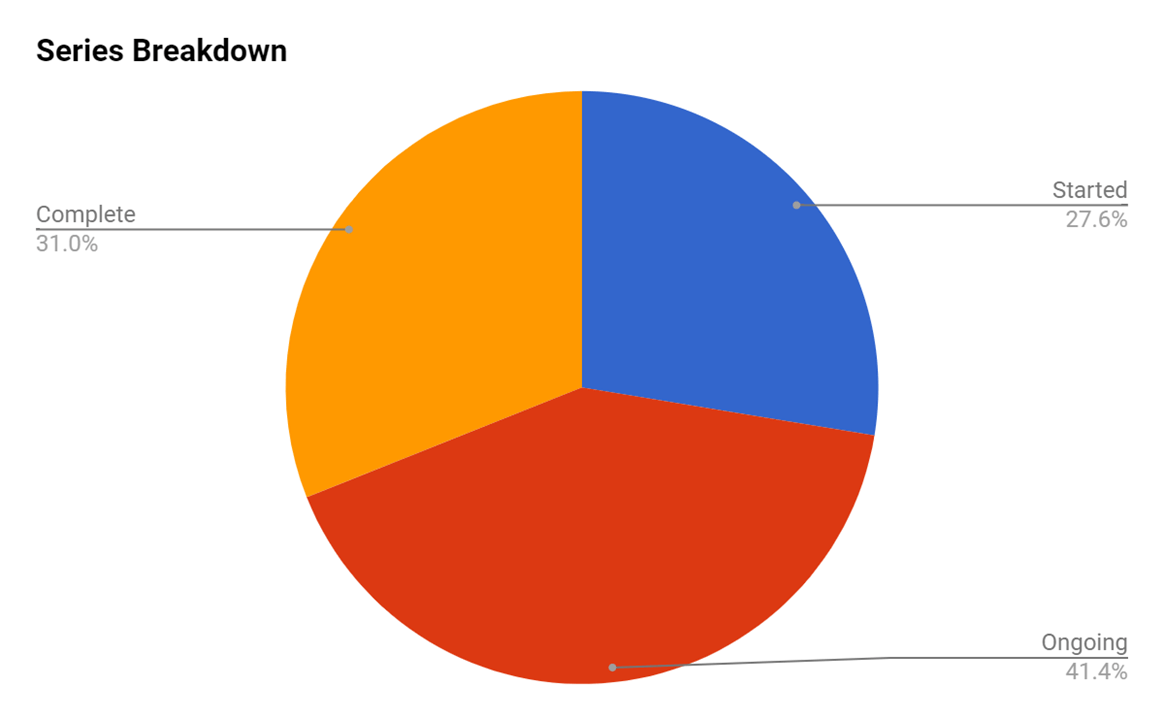 A pretty good mix of finishing series, continuing them, and starting them! It's nice to see that I have one-third of each, for the most part. I'm actually finishing more series than I'm starting. Always a good sign that I'm catching up on things.
Acquisitions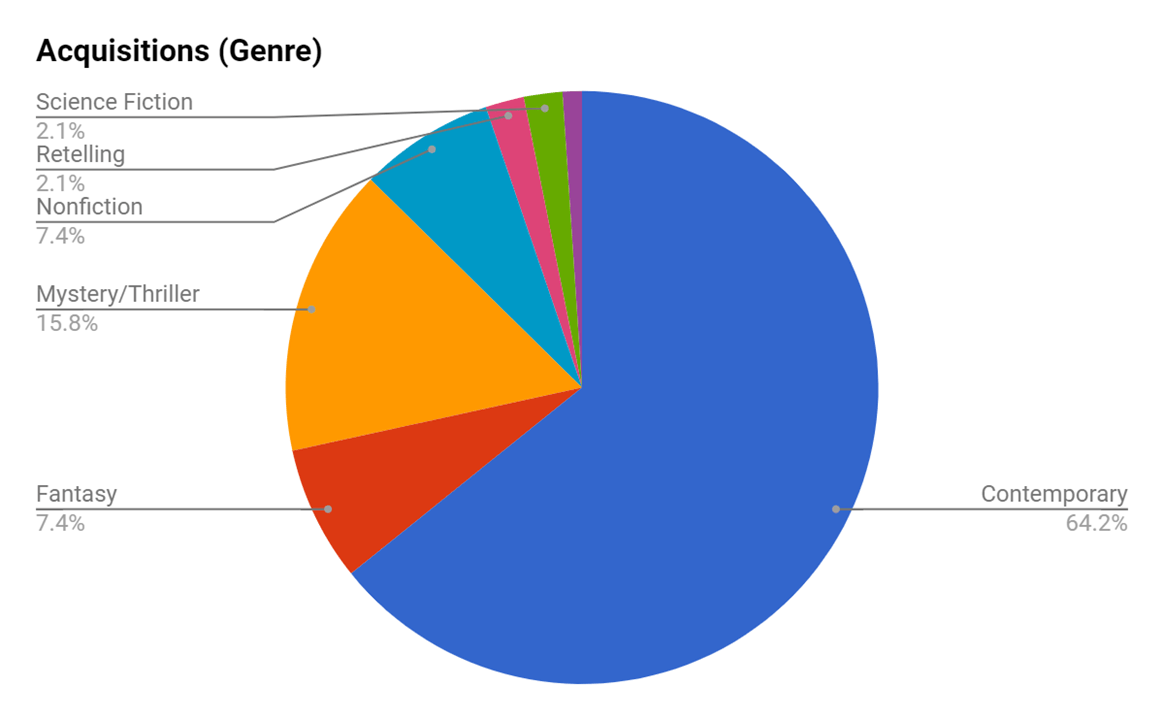 It's funny that even though my reading habits have changed a bit to be less than 50% contemporary reads, that genre is my most requested and acquired in terms of ARCs/egalleys. I think it's because most of my favorite authors and companion series are within that genre and it's still something I gravitate toward. I've really kicked up my mystery reading lately too so that's not surprising.
Lol yes I still am requesting egalleys! This number is increased because I didn't request physical copies. I've also tried to buy books I'm excited about so there's a good amount of hardcovers here too. I've had subscriptions to Audible and/or Libro.fm throughout the year so I've purchased audiobooks too.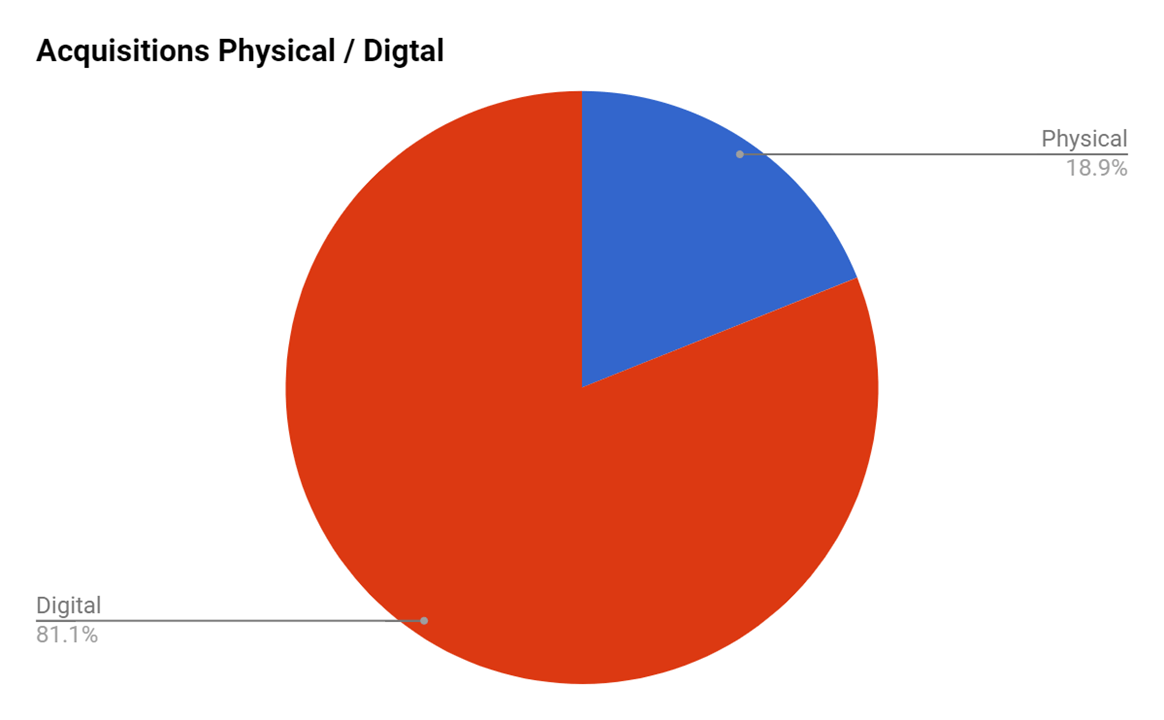 I've acquired mostly ebooks and egalleys so this is again not surprising!
I think Penguin is usually my number one publisher, followed by Macmillan. Hachette publishes Forever Romance and I read/acquire a ton of books from them so it makes sense that would be in third place here. I request a lot of egalleys from Berkley Publishing within Penguin too.
I got a lot of review copies this year but it's nice to see some purchases and preorders. I also sometimes get a Book of the Month but usually am not overly impressed with their selections. I just like to use the credit/discounted price when they happen to have something that I'd want to buy.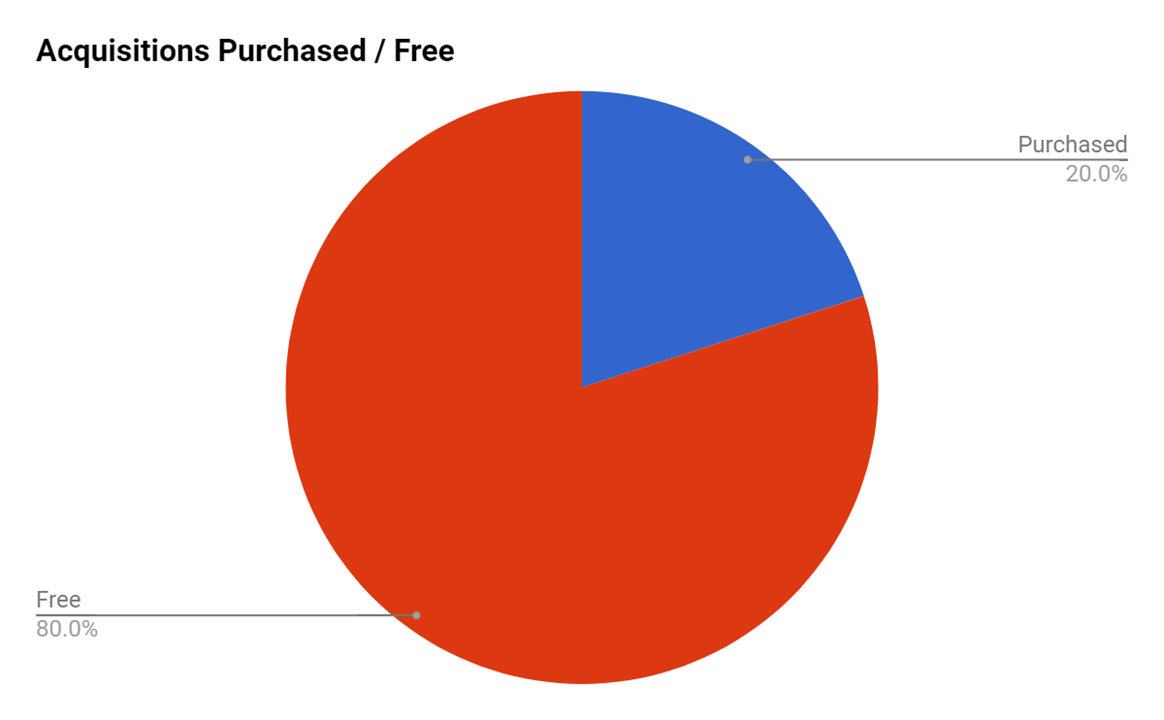 I made a push at the end of the year to get more library books but I actually don't track them on here. I'm going to do better with that next year! Many books are review copies and gifted from Christmas or Amazon gift cards. I hope to buy more books next year, even if they're just ebooks!
Related Posts