Alright y'all – new year, new planners and spreadsheets! I've posted countless organization-related posts over the years that can be found in this category on my blog. I'm keeping some spreadsheets and planners the same as last year and bringing some new things to the table as well, so let's get into it!
Planners (Digital and Paper)
Artful Agenda – Digital Life Planner
I wrote a whooole post on this when I first got the Artful Agenda, so feel free to check that out for an overview. I use this to sync with my Google calendars (blog posts and personal) and can include other tasks, meals, and to-do lists/notes pages. Below are two screenshots. The first is part of the monthly view:
And below includes the daily page layout, next to the calendar section. (For more pictures, definitely check out the post I linked above.) There are priority tasks, other tasks, meals, water intake, and an automated daily quote. The section at the bottom has a title you can edit, so I made mine into a place where I can track groceries and/or things I need to pick up that day. I also use the "other tasks" section for my internet and blog-based tasks; the "priority tasks" section is mostly for ~real-life~ tasks.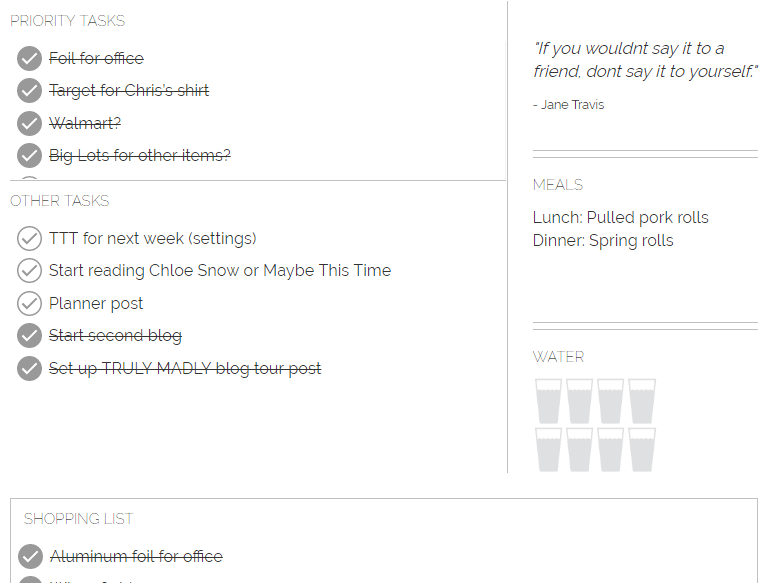 ---
Bullet Journal for Reading/Books
I'm still doing a bullet journal this year for my 2020 reads! Again, I made a whole post about this with my pages before I filled anything in, so check out that post if you're interested in seeing more. I used the same bujo from last year since I barely filled it, but included this 2020 divider for the new year: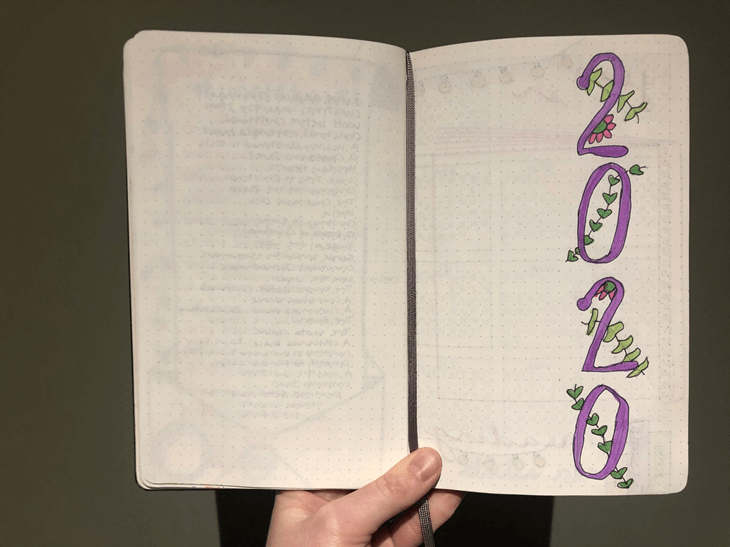 I use my bullet journal to track my year-long goals, challenges, and statistics. I also have monthly pages where I track the books I read in the month, my TBR for the month, readathon progress if applicable, and the new releases I'm excited about that are publishing in that month. I'll continue my Bimonthly Bullet Journal posts this year too! Here's another page I love:
---
Blogilates Fit Planner
Despite loving the Artful Agenda and using it HEAVILY since July of last year, there are some things I just prefer having a physical, paper planner for. My biggest reason for making the switch to a digital planner is that it's much easier to have with me on the go than a physical planner. I would be with friends and they would want to schedule our next dinner or get-together, and I wouldn't know off the top of my head if I had plans that day. Using the digital planner means I just open up the AA and check. However, I love having a big classic planner on my desk at work. I can track to-dos that have to do with personal things AND work-related tasks.
I chose this Blogilates Fit Planner because I wanted to get back into the swing of some physical planning, and it's such a huuuge planner that it will fit nicely on my desk. I haven't fully fleshed it out yet but I'm in the process of using the daily sections. There are week-at-a-glance pages too that I need to use for something… just not sure yet. Either way, I hope this helps me with meal planning, future fitness goals that I hope to start within the next few weeks, and other written planning needs.
Spreadsheets
Reading Tracker/Spreadsheet
I've been using Crini's spreadsheets for years now, but I went a different direction this year! I heard about this spreadsheet from Brock at Let's Read when Melanie referenced it somewhere and I love it so far. It has a lot of things I prefer, like the ability to distinguish between paperbacks vs. ARCs / egalleys vs. ebooks and automatic charts. You can watch a funny overview of the spreadsheet on his channel – highly recommend it – to get the swing of things. I hid some tabs that weren't relevant to me, input my challenge-related tabs from other years, and adjusted whatever else was needed to suit my purposes!
Reads
The first page is the usual: a place where you put all of the books you read and the various things you can track about them! It includes a few things that I personally hid columns for, but the ones I'm using are: title, start date, finish date, author, author gender, age target, genre, format, number of pages, number of audiobook hours, physical or digital format, pub year, publisher, rating, how it was acquired, its location, series status or standalone, number in the series, if the book is diverse, a readathon you read it during, and an automated column for the number of days it took you to read.

Statistics
The most exciting thing about all of these automated statistics is that you can adjust the dates! I have it set (at the time of posting this) for the month of January, so I can make my month-end wrap-up easily. Then, I'll switch the dates for the next month. I'll be able to focus on a six-month timeframe when I do my midyear update and then make it year-long for the EOY surveys.
Acquisitions
Similar to others I've used, this spreadsheet has a place where you can track the books you acquire from various sources. I usually include books I've gotten for review and books I've purchased or gotten as gifts. I don't include library books but I'm starting to think I should! Why not?
Challenges
I make my own tabs for tracking challenges each year because I enjoy having everything in one place. This tab includes the year-long challenges I signed up for, including the Popsugar Challenge, Monthly Key Word Challenge, and Calendar of Crime Challenge. You'll see that they each have months, prompts, and other challenge information.
Required Reading
My next tab is what I call "required reading," where I track books with due dates for various reasons and my personal challenges. Last year that involved the Picky Pledge for reading physical books and this year that includes my Rainbow Try a Chapter Unhaul. I have due dates for blog tours, book clubs, and library books, and then two columns where I track books I'll be reading with my two main book clubs.
Romanceopoly
A new tab for this year's challenges of course! This is based on the Romanceopoly challenge and clearly there's enough information to track for this to get its own tab. I have the street, genre, related prompt for my moon pack, the title/author for the book I choose, which roll it was, what the dice roll number was, and the month I read it.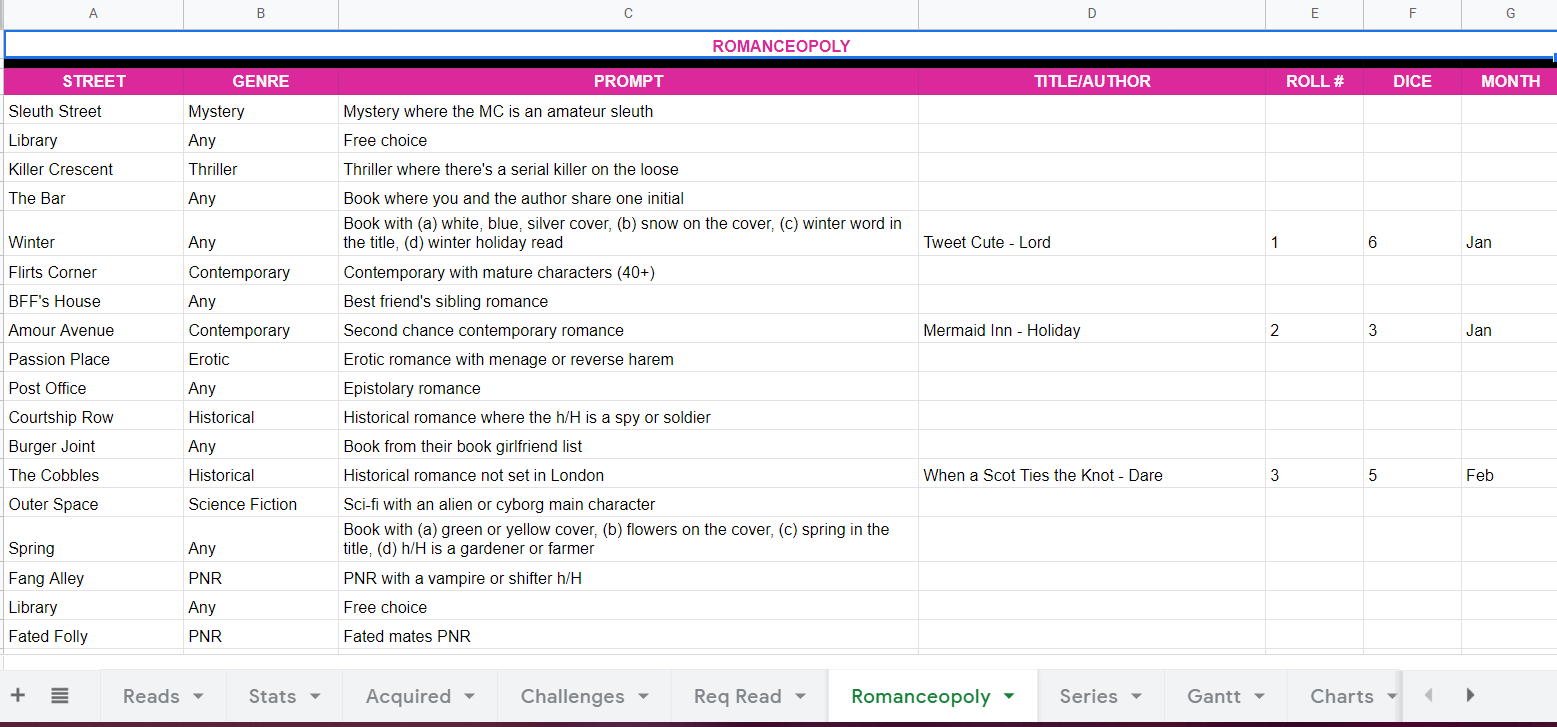 Series Tracker
I like this one! This is where I keep the books I read within series for the year. It includes the book I just read, author, their gender, the status of the series, my status with reading the series, the title of the next book, the number of books in the series, the last number I completed, and then the automatic calculation of the percentage done with the series I am.

Gannt Chart
I LOVE this new sheet as well! This automatically makes a Gantt chart to show the books I've read (start and end dates) to see a visual representation of how long it took me to read each book. It automatically uses the dates that I put in the Stats tab so I'll be able to use it whenever I want. As you can see, I'm currently reading the three books at the bottom at the time of writing this post, but you can see the visual start and end dates for the first four books I'd already completed.

Charts
And finally, the best tab! This automatically makes charts based on your reading. It also uses the dates in the stats page, so you can do monthly charts if you wanted! I won't go through all that but I do quarterly and/or mid-year check-ins sometimes. I love that I don't have to make my own charts – it's a game-changer.

---
Database of Review Copies
I've showed this one before but a refresher: I keep a database of all of my review copies from publishers. It includes all Netgalley books and more recent physical ARCs. I haven't put in my super old physical ARCs yet because honestly they're so out of date and I'm the worst. This is a screenshot of the 2020/current year tab in the spreadsheet. I include the status (unread, up next, read, DNF, or past due), title, author, pub date, format, source, if I read the book on time, if I received it for a blog tour, and any notes.

---
Detailed TBR Plans
I first introduced this method of heavily scheduling reads back when I was struggling to get things done for 2019. When I have a lot to read within a month because of various due dates or challenges, I sometimes develop a "readathon style" of reading, where I schedule a specific number of pages/chapters per day and spread the reading out. This is mostly for audiobooks and longer books that I know will take me a while, but you'll see other books down there too. I don't use this every month but only when I need some motivation!

---
Calendar of Crime Ideas
I have my Calendar of Crime tracking in the normal reading spreadsheet, but I tracked some ideas in another one. Because there are so many options of books to read and things that need to be researched. For example, you can read a book based on the author's birth month, so you need to know when the author's birthday is and track their books as options for that month. Maureen Johnson was born in February, so I could read The Hand on the Wall in that month. Anyways, I went through and tracked those bits of research, plotted the top book options for each month, and will reference the spreadsheet when making my monthly TBRs! There are columns for each possible category for the month. My February example includes the following options: the month/word "February" is in the title of the book, the author was born in February, the primary book action takes place in February, there's a February holiday (ex Valentine's Day) in the book, the book was originally published in February, the title includes a word beginning with "F," there's a February-related item on the cover (hearts, cupid, bow and arrow, etc.), or the book is centered around a February theme (couple, romance, love triangle).
Related Posts