Five on Friday displays the the top five things that have been on my mind this week! It could be book-related, but it may be music, movies, TV, personal life, food, etc.
Girls (HBO)
This is my new TV addiction. I said in last week's Five that I don't have any time for TV anymore and I was feeling like there were no shows that interested me. Well, literally that same day I decided to stay up and try a new show: Girls. Jesus it's so perfect and hilarious. It's just so realistic and interesting; I binge-watched the whole first season before bed on Friday and when I woke up on Saturday. Oddly enough, I haven't had time to watch it since, but I'm hoping to have some time this weekend. I'm really interested in checking out Lena Dunham's book now too – have any of you read it? (Not That Kind of Girl)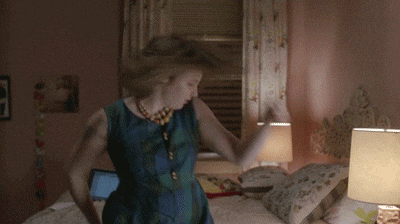 My Kindle
Okay so I've been a little library-crazy over the past few weeks. I've totally forgotten how much I enjoy using my Kindle! I know there's no better feeling than holding a real book… but there are so many glorious benefits to using a Kindle instead sometimes. I've been able to read in bed once we turn off the lights. I don't have to struggle with finding a comfortable position to hold the book open. I can read using the Kindle app on my computer when I'm feeling lazy at work. It fits much better in my purse than any other books.
Friends on Nextflix
I'm sure most of you are assuming this is something I'm going to be excited for, but I can assure you it's not. I've loved Friends since I was way too young and it was incredibly inappropriate for me to watch. I used to sneak out at night and pretend I couldn't sleep so my mom would let me lay on the couch with her when she watched. It's been a huge part of my life. I've gone through two DVD boxed sets because I wore the discs out too much. It picks me up when I'm down; it makes me happier when I'm already in a good mood. I can quote the words along with each episode. It's totally one of those selfish things where because you love something so much you don't want anyone else to enjoy it. I'm aware it's crazy but it just means that so many people are gonna be out there thinking they love the show as much as me and they don't! Hehehe.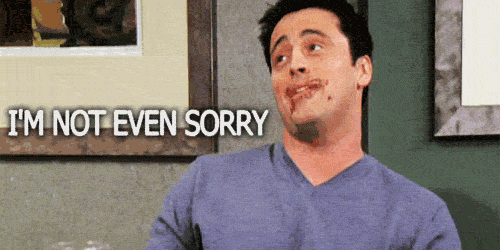 New York City
Tomorrow we're headed to New York!! Chris's birthday is on Sunday so we'll be visiting some sights tomorrow. (No one wants to travel on a Sunday and have to rush home!) We have a few places we plan to hit, but otherwise our plans are wide open. We've been to New York many times before so it's not like we have to rush around to all of the touristy spots. His main goal is the Lego store. My main goals are visiting the Friends pop-up Central Perk and Strand Bookstore!! Hopefully I'll have some nice bookish pictures to show everyone at the end of the weekend. I'm excited to get away for the day.
GIFs
Can anyone tell I'm obsessed with GIFs now? I always thought they were kind of annoying in posts but something changed for me… Now I can't stop. I spent almost an entire work day browsing Giphy and favoriting them for future use. I have a GIF Tag post coming up for tomorrow, so you can really see me go a little too crazy. ---
you know when you love a book/movie/tv show you just want to hug it close and keep it all to yourself and no one loves it as much as you?

— Lauren (@bookmarklit) October 15, 2014
Related Posts