Five on Friday displays the the top five things that have been on my mind this week! It could be book-related, but it may be music, movies, TV, personal life, food, etc.
Snow Sucks
Yeah, I hate the snow. I really do. (Despite my smiling face in the photo… It's Black Friday for Panthers fans, so I had to tweet this dumb picture of myself in my black clothes and Panthers hat)… Driving to work this morning was fairly miserable and I hate how other people act in inclement weather. I know that we should drive slower, obviously, but there are some instances where people act a bit too cautious and make things even worse. FYI, slamming on your breaks suddenly can make you spin out and be even worse than just maintaining your speed in the snow. I am mostly frustrated because my boss lives literally less than a mile away from the office. I'm always the first one into the office because apparently I'm expected to be. So today, in the snow, I had to drive in to make sure I got there in time. I don't get why my boss can't just come in to open the office and answer phones while I work from home – even just until driving conditions are safe. That's all I ask!
Bout of Books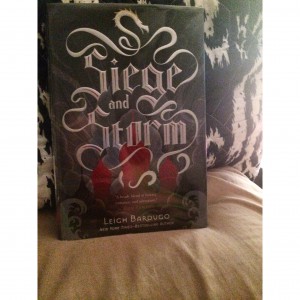 I know that the point of Bout of Books is to just motivate you to read, even just a little more than you usually would. For some reason that's just not working on me this time. In the last bout of books I read 6 books in 7 days. I stupidly thought I'd be able to do that again. The only reason I was able to do that in August was because I had two vacation days where I sprawled on the beach with my books. This week I just have not been motivated to read any more than usual. That's okay, though, because I have a feeling this weekend will give me a bit more reading time. I am enjoying the books I'm reading (even thought I am definitely straying from my initial TBR), but I just can't motivate myself to sit down and read. I did, however, cheat and read a short story that I counted as half of a book towards my goal of 7. I also feel like a cheater because it counted towards my Goodreads goal. Oh well.
Stacy Jay and the Kickstarter Controversy
Sigh. Was the book blogging community always this volatile? I feel like there have been some major shakeups in the last few months. Between #HaleNo and this recent issue with Kickstarter, I don't know what's going on. I've had Princess of Thorns on my TBR for a while because every blogger seemed to really love it. I bought the Kindle book a week or two ago. When I saw people sharing a link to support a Kickstarter campaign to support a sequel to the book, I thought it was a great idea. I didn't even read the first book yet and I wanted to help her write it. None of the information in the Kickstarter seemed weird to me. I even pledged $20 so I could get an advanced copy of the book. The next day, I saw some tweets about how she cancelled the campaign and abandoned social media. I was confused at first. Apparently people were upset that she was planning on using some of the money to support living expenses during the timeframe. I can see how people may have an issue with that, but I didn't. Her family needs something to survive on while she spends three months writing a book! It's not like we were pledging money to keep her going and THEN would have to purchase the book as well. Supporting her with even $10 would pay for our copy of the book. You're basically preording something. Who cares where the money goes? This is just my opinion. If you don't want to support something, don't support it. I'm very sad she had to abandon her plans and the internet. For a more coherent view of this topic, check here. And for more information from Stacy Jay, check here.
Accountability
This topic applies both to my personal life and my book blogging life. At work, blame is constantly shifted between everyone when something goes wrong. If my boss forgets to call a client on Friday about my candidate, she'll complain on Monday that we need to keep in contact with them and make it seem like it's my fault for not keeping up with her. Excuse me, be accountable for your actions! Realize when you say you're going to do something and then don't do it. Don't try to pretend its someone else's fault. Own up to it! This has become a major issue around my workplace and I'm sick of it. I just want people to be accountable for the things they promise and the things they do. Don't blame others when you make a mistake. Sometimes it can be little things and sometimes it can be big things, but they're all important. Now this also kind of happens in the book blogging world. I don't want to sound picky or presumptuous (I realize that beggers can't be choosers) but sometimes it can be a bit frustrating. I don't want to point fingers so I'll keep this VERY basic. I fully understand that life can get in the way. Things can come up that prevent you from doing something, sending something, or working on something in time. It happens! I really get that and try to give people the benefit of the doubt. However, sometimes it can be frustrating when you're trying to work on other things or plan out a TBR and things are not ready or delivered when you expect them. I was told multiple times that a certain thing was going to be delivered to me in a certain timeframe and it happened much later. Again, this was a free thing, and I'm GRATEFUL I have the chance to even have it, but I build my schedule around certain things and hate when something doesn't come to be when I think it is. Just having a little warning about something being held up is fine! Just tell me! I don't expect things to be handed to me immediately when I want them, but if there are some delays or hiccups I just want to be kept in the loop. Accountability, man. (Maybe I sound like a brat, but hopefully you get what I mean!)
End of Year and Beginning of Year Book Things
I'm stalking alllll of your end-of-year surveys people. And I'm stalking your charts about reading stats. And your "best of" lists. I feel like I haven't added much to my TBR lately and I NEED MORE. (I should not say this. It's not true. I have too many as it is.) I love reading all of these wrap-ups that keep coming out! More importantly, I'm stalking your challenge sign-ups. And your goals for 2015. And your plans. And your pacts to buy less books and be more picky. I LOVE IT ALL. GIMME MORE. If you're interested in stalking my end-of-year things, check my end-of-year book survey or my statstics survey. If you wanna creep on the million challenges I signed up for for 2015, you can do that too.
---
I was enjoying my pad thai and Siege and Storm until my coworker came in to yap my ear off, as usual. OPEN BOOK = CLOSED MOUTH

— Lauren (@bookmarklit) January 8, 2015
Related Posts