Ten Books to Read if Your Book Club Likes Seasonal Reads
Top Ten Tuesdays are hosted by The Broke and the Bookish, where we make lists of our top ten books (or something else!) based on that week's prompt. The topics are provided ahead of time and can be found here. Book links bring you to Goodreads or my review.
This week's topic is… Top Ten Books To Read If Your Book Club Likes _______________ (if your book club likes historical fiction, inspiring stories, YA books, non-fiction, controversial books to debate about, or pick a specific book).  This was a tough one to narrow down because I feel like I've done quite a few book club TTTs in the past. I like the freebie nature of this one though. I decided to go with books your book club should read if you read seasonally. There are lots of bloggers (myself included) who read based on the seasons. Cristina and I do our Book Buddies based on each season because it's fun to match it up to the ~vibes~ of that month. I wanted to give out some recs for each month of the year – minus two – for your book club!
January Meeting: Cozy Winter Read
Snowed In by Rachel Hawthorne //// This book did involve a little bit of the holiday season, if I remember correctly, but it was really just a perfect winter book! The setting of a cold, snowy island and a bed and breakfast? To die for! I wanted to be reading it in front of the fire with a cup of hot chocolate. Lovedddd.
February Meeting: Valentine's Day Cupid
True Love trilogy by Kieran Scott /// This trilogy was really fun – cupid is sent down to earth as a punishment and she has to match up couples (without her powers) before she's allowed to come back up. I read the series during February last year because it was definitely a great Valentine's Day read!
– – –  Break for March and April  – – –
May Meeting: Bringing May Flowers
Everything, Everything by Nicola Yoon  //// I wanted to focus on the whole "April showers bring May flowers" theme and feature a book with a flowery cover for May. This book works well with the whole springtime vibe too, because she's allergic to everything and can't go outside. Allergies, amirite?
June Meeting: Graduation (Night)
Meet Me Here by Bryan Bliss /// This is the first book that comes to mind when I think of graduation. It takes place over the course of that night, once the ceremonies are over and the parties start. The book wasn't super memorable as a whole but I did enjoy reading it! Definitely a good choice if you're feeling the June graduation thing.
July Meeting: Summer Part 1 – European Vacation
Wanderlost by Jen Malone  //// I loved this cute, light, summery, fluffy book! I read it in May but remember thinking how nice it would have been later in the summer when I was really feeling vacation vibes. This month can focus on the European vacation kind of summer…
August Meeting: Summer Part 2 – Beach Vacation
Nantucket Blue and Red by Leila Howland /// … and August can focus on the beachy vacations of summer! I love this duo because it makes me want to be on a beach somewhere (preferably Nantucket). I just get such great summertime vibes from these two; I could totally reread them every year.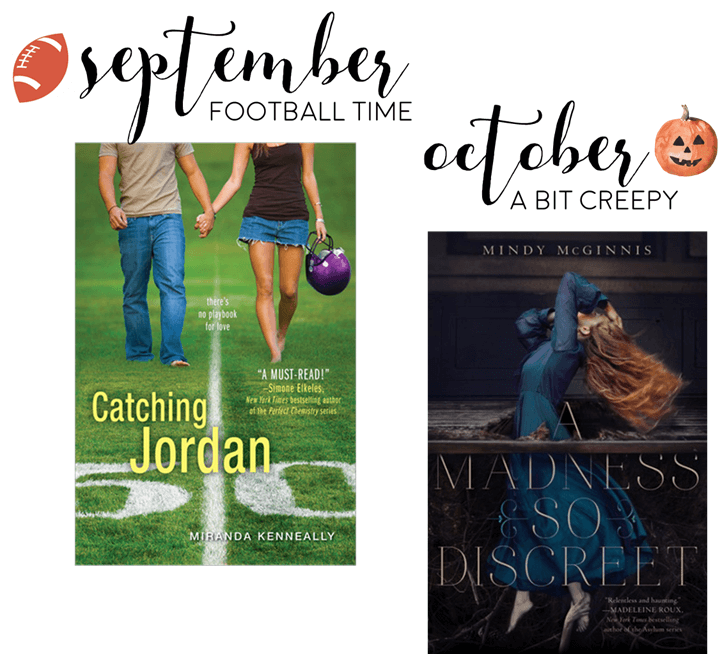 September Meeting: Football Season
Catching Jordan by Miranda Kenneally  //// I know this is like the only football book I recommend even though there are plenty I love, but it's THE most footbally one… because the girl actually PLAYS football with all the boys. This is tied for my favorite of the Hundred Oaks books, so it's worth reading!
October Meeting: A Little Creepy & Spooky
A Madness So Discreet by Mindy McGinnis /// I'm not good with horror books, generally speaking, but do like something atmospheric for Halloween-time. I loved this choice for Book Buddies last year. It was out of my comfort zone but it really exceeded expectations! Something paranormal and/or a little creepy is perfect.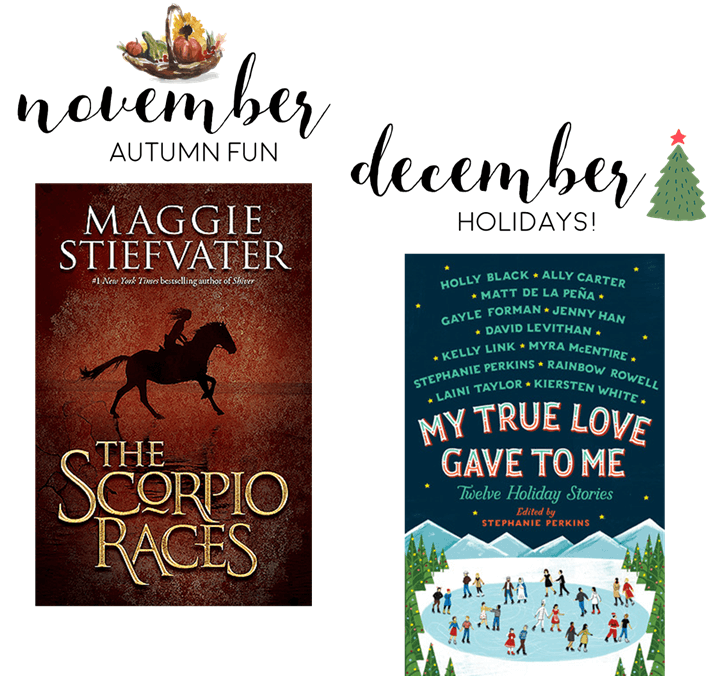 November Meeting: Autumn Read
The Scorpio Races by Maggie Stiefvater  //// Okay, so I actually haven't read this yet. I own it and maaaany of my friends have it on their all-time favorite list. I don't like horses so I've been hesitating… but I WILL READ IT SOON. Maybe this month. The book is very Novembery, since Brittany reads it every year around now!
December Meeting: Holiday Stories
My True Love Gave to Me by Stephanie Perkins /// I loved doing anthologies for Book Buddies because we have a bit more to discuss and split up all 12 stories. It would be a fun book club meeting to have even more to talk about. Some stories are weirder than others but the anthology as a whole is very fun.
---
What do you think?
Would you join my seasonally-curated book club?
Related Posts