Five on Friday displays the the top five things that have been on my mind this week! It could be book-related, but it may be music, movies, TV, personal life, food, etc. Previous posts can be found here!
Folks, this is a problem. I'm not sure if you've heard of Lularoe, but they have the literal most comfortable leggings on THE PLANET. Most people start out with just a nice black pair of leggings just to "see what the fuss is about"… and then slowly buy EVERYTHING. I don't even want to tell you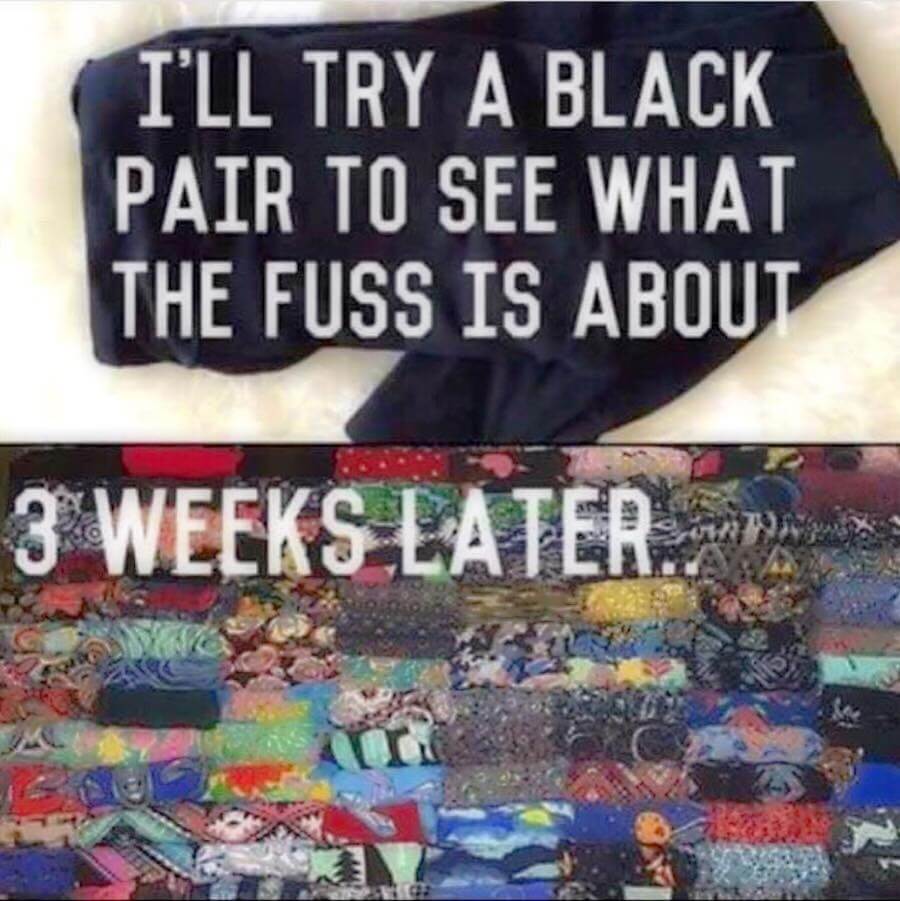 how many LLR items I currently own. I'm afraid to count and do all the math, to be honest. If you're not sure what it is, basically it's like the same thing as Mary Kay consultants, where people sell the clothing. All of the patterns are limited edition and only printed on 1,500-2,000 items. So basically if you love something, you need to jump on it! Hence the addiction. You can usually just shop through Facebook groups, online pop-up parties, and in-home parties. That being said… I'm having a Lularoe party on September 13th from 8-10 PM EST where I get free clothes if people buy things! Please seriously contact me if you're interested in getting involved and I'll find a way to send the invite your way! It has to be on Facebook. In any case, I love all my clothes lately and have spent sooo much money. I'm officially not allowed to buy any more Lula until after my party, especially because I'll be getting free items too 😉
I posted on Twitter a few months ago that I'm the best at taking recipes and making them even easier. I'm good at deciding what ingredients can change or be removed, and just overall making them less time-consuming! I'm also a Crockpot queen. It's the best way to cook anything and not have to worry about it. I recently posted two recipes I love that you can see right here!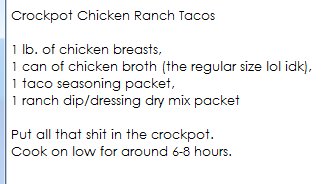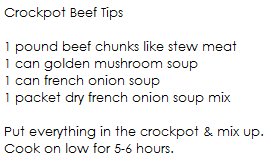 As you can see I'm a big fan of just throwing everything in there and letting it go. I once drafted up a big recipe post but never shared it. Is that something people would be interested in?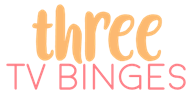 I just shared this, as usual, during my Bookmark Lit Bulletin… but I wanted to expand. I made it a goal this year to try to watch more TV. It's a weird goal to have, especially because it directly cuts into reading time, but it was important to me to focus on other hobbies. I love a good binge-worthy show, so I needed to find some that worked and get addicted. Chris and I are great at starting then abandoning TV shows… so it's nice to have a few that hold our/my attention! Here they are…
Currently Watching
I've been working my way through Sailor Moon as well! I started going pretty hard on some episodes in July but slowed down a little bit. They're perfect because they're super short, but I also feel like I'm not making any progress! I love getting to know the characters and I feel like they're finally getting into the meat of what's going on.
I was doing pretty well with Devious Maids when the season first came out, but I kind of forgot about it… WHOOPS. I plan to get back in and binge the episodes I missed through July. I think I probably am 5 episodes behind right now? I hope they're all online still. Despite me forgetting about it, this season is pretty interesting! There's always crazy stuff happening. If you liked Desperate Housewives, I highly recommend you check this show out. They're very similar.
Recently Finished
Stranger Things was our two-night OBSESSION. We watched 3.5 episodes one night and the final 4.5 the second night. It was so amazing and creepy and atmospheric and 80's. I loved every goddamn minute. Chris doesn't like scary/creepy things and even he loved it. Once you kind of know what's going on with the supernatural elements, there's not any BOO moments that would scare you, if you're worried about that. The kid actors are so cute too.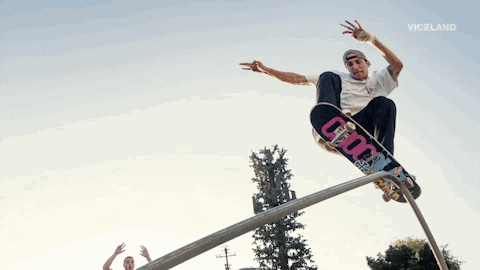 I'm bummed that King of the Road is over for this season, but it was so amazing otherwise. Basically it's Jackass plus skateboarding on a road trip. Fun challenges and skateboarders doing dumb/fun/awesome/crazy shit. I loved every second of it and definitely am in the mood to watch the episodes again already. I'm pissed (spoiler alert) Birdhouse won because I was rooting for either one of the two other teams… but whatever, the ride itself was way better than the ending. AND my boy Elijah Berle won MVP!
We finally finished up season two of Daredevil. Definitely some interesting things brewing for next season. Matt/Daredevil did a lot of things that annoyed the shit out of me and I was definitely on Foggy and Karen's side of every fight for this one. I LOVED LOVED LOVED The Punisher! I can't wait for his show. Also I'm hyyyyped for Luke Cage's show next month! SO SOON!
Possibly Starting Soon
We're thinking of getting into a DC show next for some reason. I think we want to keep the superhero thing going but expand into something we haven't experienced yet. Anyone watch either of these shows? We're not sure between The Flash or Arrow for our next superhero binge.
The new round of Secret Sister is happening now! I started investigating my person right off the bat and deciding some themed boxes. It's definitely easier for the second half of the year because you have holidays to use as themes, plus my sister's birthday is during this round. Just like that I have half of the box themes already! (I'm doing to do Halloween, birthday, Christmas, and maybe one that's kind of Thanksgiving-y, but really just about being thankful or grateful?)  I loved buying for Mackayla last round but I feel like life was super busy. I want to make sure I give some real focus this round and stay in the price range. That was another issue for me too. I have a few things going for my sister already and hope to send the box within the next week or so!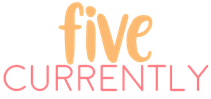 Lots of lifestyle bloggers share posts about things they're currently up to: things they're feeling, stuff they're working on, and even what music they're listening to at the moment. (I also love the "what I'm doing now" tag on Instagram!) I'm taking a cue from them and giving you a slice of my life with various prompts below.
Adding mystery/thriller books to my Goodreads shelves like crazy. I've been getting really excited about the ideas of some of them, but I almost never actually READ this genre! I hope that when some of the unreleased books actually come out, I'll make an effort to read them ASAP instead of waiting.
Anticipating the new season of Stranger Things… already. I know they haven't even started filming but jesus I neeeeed those kids and that show back in my life! Could they just have new episodes year-round? Film the next million seasons all at once so I never run out? I wish I could go back in time and watch again for the first time.
Avoiding negativity about Harry Potter and the Cursed Child. I really can understand why some people are on board, but I had more people mad about its release than excited about its release that day. It was disheartening to see and kind of put a damper on my excitement for a little. Maybe I'll touch on this in my review soon.
Buying way too fucking much Lularoe. Like I took a look at the stack of new clothes and tried to not focus on how much money I've spent. Officially cut off until September, and even then I'm only allowed FREE things from my online pop-up party.
Drinking iced Caribou Coffee in Mocha. I tried a sample at the grocery store and was duped into buying some pretty quickly. The flavor is GREAT, especially compared to some other pre-bottled iced coffees I've tried. I love mocha coffee in general so this one is a huge win for me.
Eating easy crockpot recipes, as I mentioned. There's literally nothing better in the summer.
Listening to audiobooks, as usual. I took a little break for a while and tried to enjoy podcasts again, but I don't have the drive to listen to them right now. I'm not sure what other podcasts I might be interested in either. Maybe finding one to start randomly and only listening as the weeks happen? Because usually I try to start at the beginning and catch up.
Looking for a very specific pair of Lularoe leggings that I should NOT BUY because ugh. I have too much shit already and it gets sooo addicting.
Planning my birthday festivities! I'm taking off the whole week of my birthday this year (because Labor Day is that week and it's a bonus!) and I plan on RELAXING. Chris and I will probably spend a night or so up at Hampton Beach for a Seafood Festival that takes place on my birthday, but I haven't booked it yet. I just desperately need the time off.
Reading too many books at once. There was a period last week where I had 4 books at once and it makes me squirmy. I ended up putting one back on my "to read" shelf because I wasn't in the mood for it anyways.
Trying to get healthy! Chris and I finally picked up the key fob that gives us access to the gym at our apartment (just a $50 deposit for the key fob and the gym is free!). We've been watching the Olympics (and I read sometimes) while we work out. I keep it simple but it feels good to be healthy. We also have been trying to meal plan and just be healthier in general.
Watching the Olympics! I didn't really think I'd be super into it, but I can't help it for some reason. I love watching gymnastics, beach volleyball, swimming/diving, and tennis. I have a few favorite athletes like everyone else (Phelps, Biles, Williams, etc.) but it's just fun to have in the background too.
Wearing sooo many warm-weather clothes. Usually I can get away with wearing some pants during the summer still since it doesn't get TOO hot when I go to work, but this summer has been brutal. Most days are above 85 degrees. I hate it. Good thing I bought a lot of dresses recently though!
Related Posts