I am on a glorious vacation ALL WEEK. Today is my last day of work until September 12th. My vacation will involve sitting on my ass at home for days and days… and reading a lot of books. Usually I only take time off so I can GO somewhere. But, because of Labor Day and other fun friend/party things happening, I'm taking the whole week off to do whatever I want.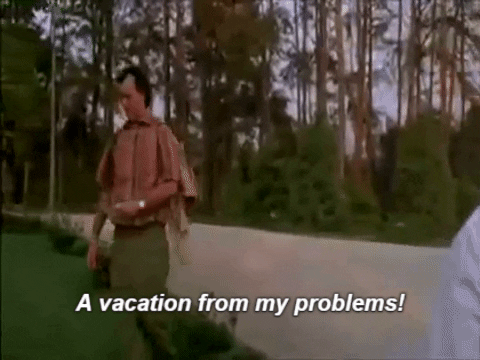 My birthday is on Friday (weeee!) so Chris and I will be spending some time doing something. But other than that? I'll be home, by myself, enjoying a lot of Netflix and (hopefully more) reading. I hope to treat this almost like Bout of Books where I just kind of read like there's no tomorrow. I've been thinking about how badly I need this uninterrupted reading time.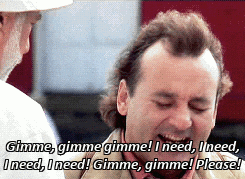 I thought it would be fun to put together an immediate TBR for this week of vacation. I hope to get through as many of these as possible, but I also want to do some other ~* me things *~ this week too. I love Chris and living with him is great, but it can be really hard to focus on things like reading or other TV shows I want to watch. I usually get some good time when he's in the middle of a video game or something, but this week is MIIIIINEEEE to be alone with my books and quiet.
I hope at least some of you know where these gifs are from… only one of the best movies ever.
Vacation Week TBR!
The Goodbye Year by Kaira Rouda • I have a blog tour review coming up on Friday the 9th for this book so it's the first I'll be reading during the week! If I have my shit together, I'll be starting this one ASAP or already started.
Unscripted Joss Byrd by Lygia Day Penaflor • This one is super short so I'd love to finish it fairly quickly! Maybe I can just lay in bed for a few hours and read it in one sitting some morning 😉
The Summer I Turned Pretty (trilogy) by Jenny Han • It's a bit ambitious to read all three of these books within a few days but maybe it's really not. I remember reading them the first time around within 2 days easily. Labor Day is the last hurrah for summer so I think it'll be a nice way to end the season!
26 Kisses by Anna Michels • I've had this ARC for a while now and just haven't gotten around to it. I've seen some great reviews and some so-so ones. Not sure how I'll fare but it seems like a great, light book for vacation!
The Love that Split the World by Emily Henry • I have this one coming due to the library and I REFUSE to return it without reading it. That would be honestly the third time I've done it even though I was suuuuper excited about this one upon seeing the synopsis. MUST READ!
Kiss Cam by Kiara London • In keeping with the apparent kiss theme here, I'd love to knock this one off ASAP. I've been super excited for it since I saw it and getting ahead for October ARCs would be wonderful. I have some that are "due" earlier than this one, but I have a feeling I'll be reaching for this instead.
Honorable Mention
In case I have a reallllly aggressive week of reading somehow, I want to toss another few options here.
So that's it for me! I hope to read like a crazy person all week and avoid any other responsibilities. Right now, the only plans (aside from my birthday) involve a lunch date with my mom and hopefully an eye appointment. So bye!!
Related Posts