Favorite Books Released in the Last Ten Years
Top Ten Tuesdays were started by The Broke and the Bookish and are now hosted by That Artsy Reader Girl, where we make lists of our top ten books (or something else!) based on that week's prompt. The topics are provided ahead of time and can be found here. Book links bring you to Goodreads or my review.
SO FUN. I've been blogging since 2014 so at least I can guarantee that I have books easy to grab for the past 6 years. The prompt specifically shares your favorite books released in the last ten years, choosing one book from each year. I should also note that I purposefully did not pick more than one book by the same author AND this is based on release year, not based on the year I read the book. Time to walk down memory lane!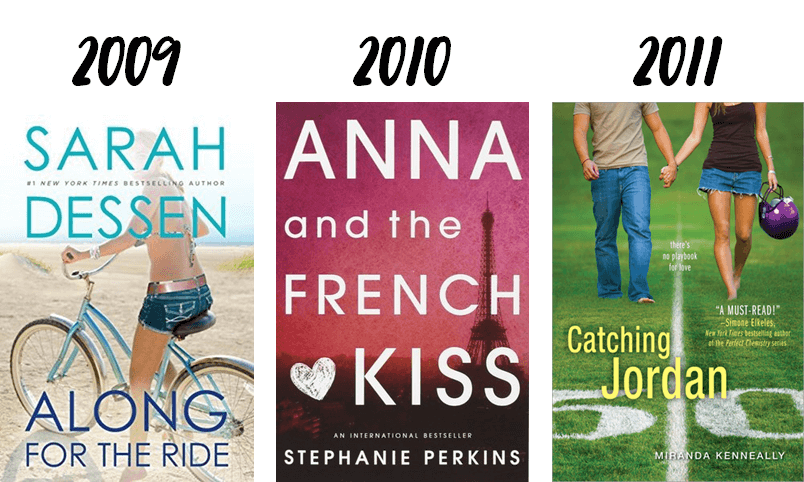 Along for the Ride by Sarah Dessen
Read in 2009 | This was a very random ARC I received from a bookseller back in 2009. He just knew he wasn't going to read it and passed it along to me for free. So it's kind of amazing I didn't even know what an ARC was and now have a DESSEN ONE in my collection! Either way, one of my all-time favorite books.
Anna and the French Kiss by Stephanie Perkins
Read in 2014 | I read this the year I started blogging, when Andi did the Isla Is Coming Readalong. I loved it so so much, and it works out nicely that this book actually came out in 2010 for the purpose of this post 😉 Easily one of my favorite contemporary books I've ever read. Swoony and shippy and perfect.
Catching Jordan by Miranda Kenneally
Read in 2014 | This is another one that I read later than the pub date, but of course it was perfect. I love the Hundred Oaks series! Weirdly I did go out of order because I didn't know one of her books was *in* the series when I read it, so I went back to the beginning with this one. Badass football-playing gal.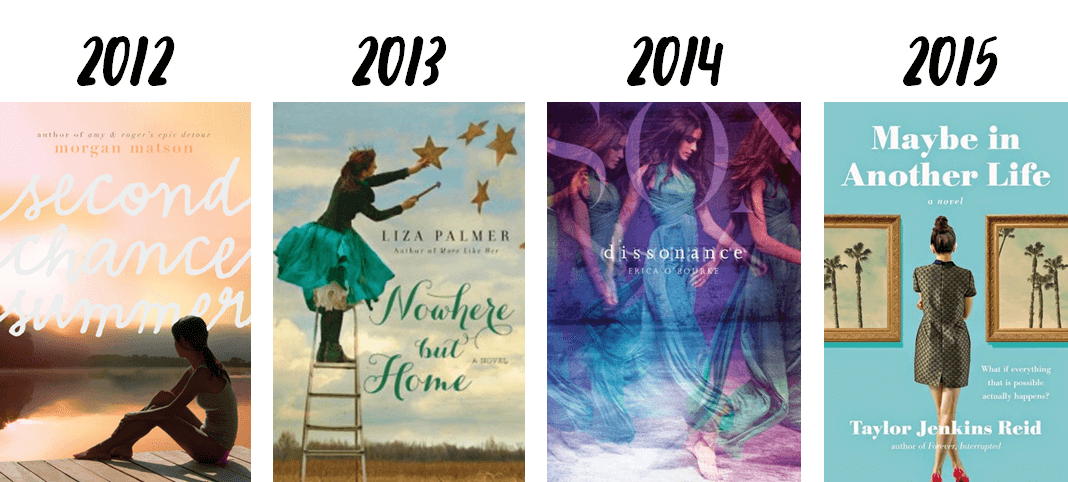 Second Chance Summer by Morgan Matson
Read in 2014 | I owned this one on my Kindle for a while but hesitated on reading it because I had a feeling it would break my heart. Yes, of course it did do that, but it's also a favorite for me. I finished the last few pages at my desk at work and awkwardly cried alone there.
Nowhere But Home by Liza Palmer
Read in 2015 | I binge-read this book during jury duty one day and it was glorious. I picked it out on a whim from Scribd and read the ebook from cover to cover (well, you get it). This book was such an unexpected favorite for me; I really didn't think anything about it was up my alley, but I knew how much others loved it. I really need a reread!
Dissonance by Erica O'Rourke
Read in 2014 | I was highly anticipating this one, with the whole parallel/time/universe thing going on. It completely exceeded my expectations and I was so happy to read more books in this world. I would love even more, of course, but at this point I would just settle for more books in general from O'Rourke!
Maybe in Another Life by Taylor Jenkins Reid
Read in 2015 | This was a tough one because I knew I needed one of her books on here and this one is technically my favorite… but After I Do is just as wonderful. I didn't want to duplicate the TJR so I  just went with my actual favorite, which I did read immediately when it was released.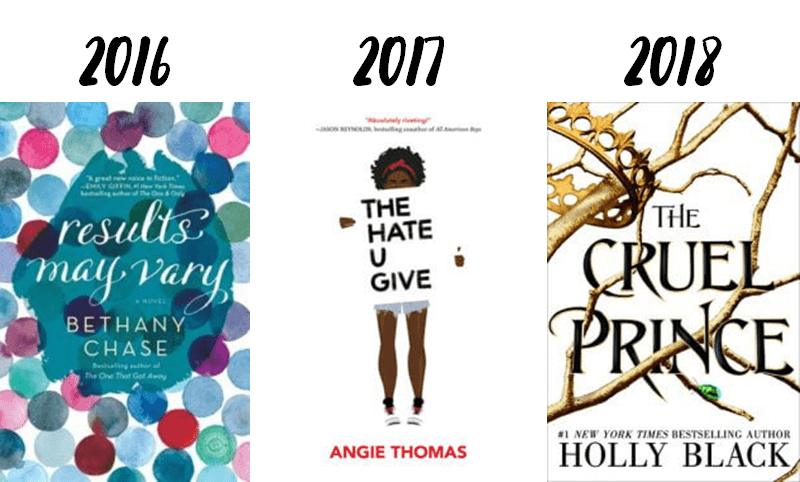 Results May Vary by Bethany Chase
Read in 2016 | Bethany Chase's books are super underrated – if you haven't read any yet, you really should. I adored her sophomore novel even more than her first book, which I didn't think would happen! I'm gearing up to read her next release within the next couple of weeks and I have high hopes. This story was wonderful.
The Hate U Give by Angie Thomas
Read in 2017 | Probably not a surprise because anyone who read this book when it came out was impressed. Seriously, a masterpiece. I've said it a hundred times but there's no better book out there that can make you laugh and cry so seamlessly from chapter to chapter. AND it's incredibly important in general.
The Cruel Prince by Holly Black
Read in 2017 | I read the ARC of this one the year before it came out but it remained my favorite 2018 release. That was a weird reading year for me so it wasn't the hardest choice I've made, but still. I enjoyed the sequel a lot and cannot wait to see how everything continues in November (!!!!).
Related Posts