Another season, another round of bookish bingo! Bekka posted the new card on Twitter instead of on her blog this time around, so go check that out! As usual, this is mostly updated (as of 9/13's finished books and current reads) with what I've read for the first half of September. My TBR ideas are subject to change of course!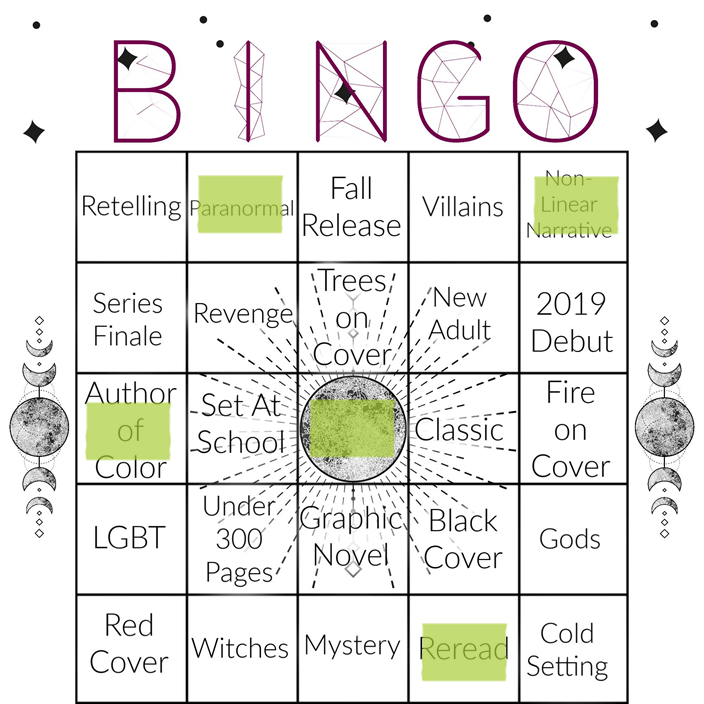 Read or Currently Reading
Paranormal | Lair of Dreams by Bray
I finished LAIR OF DREAMS this month for the Diviners Readalong. I've said it a hundred times by now, but I never should have slept on this series. I love it so much. The first book is my favorite of these two so far, but I am prepared for shit to get real in the next two books.
Non-linear narrative | Girls' Night Out by Steinke / Fenton
This story alternated between three friends, but one of them went missing. Her perspective was in the past while the other two characters were primarily in the present day, after she went missing and they're tying to find her. Definitely non-linear with these snapshots of the past!
Author of color | Of Curses and Kisses by Menon
I'm currently reading this one and I guess I could say I'm savoring it… but really I just haven't been in the mood to read anything… even a book by one of my favorite authors. It's intriguing so far and has a completely different feel than her other books!
Reread | The Darkest Part of the Forest by Black
I'm starting this one today for the FaerieAThon! My library hold for the audiobook will begin tomorrow so there's a chance I hold off and just do the first two days in one go, since I'm hoping to primarily listen to the audio for this reread. I liked this book well enough back when I first read it but don't remember being super duper wowed, so I hope to casually reread while at work and hopefully it's engaging enough for me to want to pick up my hardcover!
TBR Ideas
Retelling | Stepsister by Donnelly | I need to crank out some Retellings for my challenge and the colder months are my favorite to read them during! I have the audio for this one and it seems like a promising option.
Series finale | The Queen of Nothing by Black | !!!!!!! I don't want this series to end !!!!!!!
LGBT | All Eyes on Us by Frick | I've had this review copy for too long and I'm definitely interested to finally read it this year. I'm the worst.
Red cover | Virtually Yours by Tash | My review copy expired for this one because I suck. I have to get it from the library or something. I keep putting it off because people have had some issues with the catfishing aspect of the story.
Revenge | Ricochet by Berla | I haven't seen a lot about this one but the parallel universe kind of multiverse situation (good words there, Lauren) always intrigues me! It seems like the main characters will be exacting some kind of revenge against their father, or stopping him from doing something? Either way, it's the most revenge-oriented book on my immediate TBR.
Set at a school | The Case for Jamie by Cavallaro | This one could easily change, but I tend to like this series so far during the fall season. I need to finish it off. I believe this installment takes place at their school? Hopefully?
Under 300 pages | Love on Lexington Avenue by Layne | This comes in at 288 pages, I believe. I was going to read this much earlier but as usual time got away from me.
Witches | Mooncakes by Walker | I have this for review and it looks adorable. The early reviews so far have been pretty perfect! I'll need a little witch/werewolf action in October.
Fall release | Call Down the Hawk by Stiefvater | I can't believe this is a real book I get to read!
Trees on cover | Maybe This Time by West | I keep putting this book off because people haven't loved it. I know Kasie West books can be hit or miss for people lately, but even my sister didn't love this one. She said "if the main character annoyed ME, you're probably going to hate her" haha!
Graphic novel | Pumpkinheads by Rowell | I'd love to read this one during October. Fun fact: I tried to participate in NaNoWriMo a few years ago and actually started a story about a couple falling in love working in the local pumpkin patch. I'll be curious to see how Rainbow does it better than I could've 😉
Mystery | In the Hall With the Knife by Peterfreund | I'm suuuuper intrigued by these Clue mysteries! I'm not sure what to expect but I'm super down for this series-starter in October as well.
Villains | The Cruel Prince by Black | This is the next book for FaerieAThon and definitely is centered around some villainous people. The whole series has a lot of people with spotty morals and antiheroes.
New Adult | The Risk by Kennedy | I've been sleeping on NA lately even though I usually enjoy the reading experience. I think I just don't know how to avoid the angsty ones; I don't like a lot of drama. I need to keep up with the one series I know I can trust!
Black cover | His Hideous Heart edited by Adler | I have this for review but my reading slump has pushed it past the pub date. I think I'd like to spread this out across October, reading a few stories per week throughout the month.
2019 debut | The Bromance Book Club by Adams | I'm super excited to read this one!
Fire on cover | Glow of the Fireflies by Duga | I have a blog tour coming for this book within the next couple of weeks, so I'll be starting it soon. I think the fireflies on the cover can count as fire, right?!
TBD!
Classic, Gods, Cold setting | I'm not sure I'll get around to these ones. The cold setting may not be determined until I start reading a book, since I don't know offhand. I don't have any book with gods or classics on my immediate TBR right now but maybe that'll change in a few months!
Related Posts