I've posted ideas for this challenge each year that I've participated in it. I've taken different approaches to it but it primarily serves as a jumping off point for me (and maybe others) to think of books that fit certain prompts. I tend to fill out this challenge as I go, when I read a book and then check the list to see if it fits something, but sometimes I need a little inspiration.
---
Published in 2021
This one is honestly too easy for most people. I'm not even going to suggest any books because I'm sure the majority of people have something for this on their TBR 😉
Afrofuturist
Books in this genre "addresses themes and concerns of the African diaspora through technoculture and science fiction" according to Wikipedia. SLAY was on my TBR already and seems to fit the prompt, per the author! I'm really excited about this one.
Heart, diamond, club, spade on cover
I did a whole post on hearts on book covers for the Valentines Day TTT so check that out for some heart-based image ideas. Knowing me, that's the direction I'll go. I'm putting THE HEART PRINCIPLE here because I missed it on my post and it's probably the one I'm most excited about reading this year.
Author with same zodiac sign as you
Apparently there are a ton of great Virgo authors! I still have two books to read by Angie Thomas (featuring CONCRETE ROSE here) and a ton of Agatha Christie books I'm thinking of reading. I put DEATH ON THE NILE because I've been wanting to read this one ahead of the movie release. John Green, Kate Clayborn, George RR Martin, Stephen King, Roald Dahl, Jenny Han… Dang.
Dark academia
It's no secret how much I love books about boarding school, especially creepy ones with some kind of murder or disappearance. There are a ton of new dark academia books from 2020/2021 so I'm sure this will be easy for me. I'm featuring PEOPLE LIKE US and THE SOCIETY here because I've been attempting to read them for multiple years and really need to just go for it.
Gem, mineral, rock in title
I decided to count SANDCASTLE BEACH for this one because "sand" would qualify as some kind of mineral or rock, right? Okay thanks.
MC works at current or dream job
I thought it would be easiest to highlight books involving a librarian or bookseller, since those are pretty much dream jobs AND exist in a ton of books. MUCH ADO ABOUT YOU is like the ultimate dream – she has a temporary job at a bookstore in a quaint English village. Sign me up. THE BOOKISH LIFE OF NINA HILL also features an MC who works in a bookstore.
Women's Prize for Fiction winner
This is a dauting one because they're all very literary? I've been considering reading Madeline Miller for a while but her books scare me haha. I think THE SONG OF ACHILLES, out of all the books on the list, will work for me. Maybe.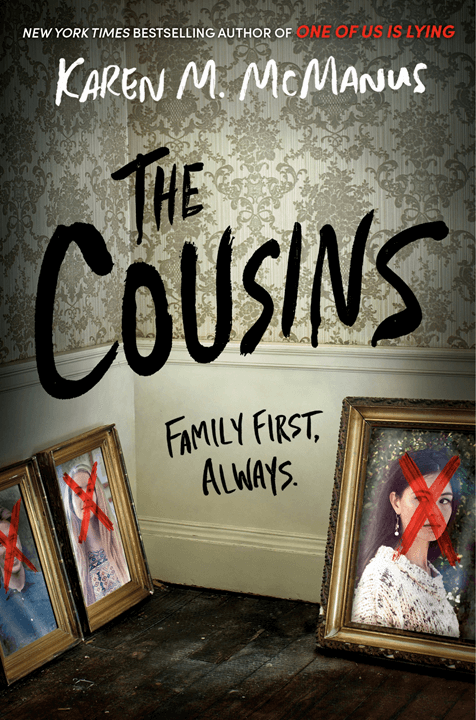 Family tree
THE COUSINS has an actual family tree in the front of the book, so that's easy. I actually used this one for my three generations prompt and used MALIBU RISING for my family tree one, but both work here. If you want an actual family tree and take the prompt literally, go with THE COUSINS.
Bestseller from 1990s
I'm really bad about reading "classics" or books in my super-backlist. I also don't like the sound of virtually any of the books, aside from maybe rereading Harry Potter… I may come back to edit this and find a YA bestseller but it's not as easy as it seems.
About forgetting
I read a decent amount of books featuring memory loss in some way or another, so this is fun! MONDAY'S NOT COMING involves a girl who goes missing, only for her best friend to discover no one remembers having seen her at all. I'm also considering SIX MONTHS LATER because I've been wanting to read it forever.
Seen on someone else's bookshelf
This is another one that most people will have to personalize – I could probably go by my dad's bookshelf or my sister's. She reads a lot of YA books so that will be easy. I also was planning on watching Kristin's bookshelf tour on YouTube and could make notes of the books she has on there!
Locked- room mystery
Apparently DEATH ON THE NILE also fits for this prompt, featured above for another prompt. THE ESCAPE ROOM has been on my TBR for a while and I never even realized that I read another one of her books before this one. Looks pretty good!
Set in a restaurant
I'm thinking I can also count food trucks for this one, so was originally leaning toward SIMMER DOWN. I'm probably reading A PHO LOVE STORY as we speak though, so that will probably count here for me first.
Black and white cover
Both Leigh Bardugo books here! I know with certainty I'll be reading RULE OF WOLVES and think this would count for black and white, since it's pretty much all white. NINTH HOUSE is another option I haven't read yet.
Indigenous author
I asked for some recommendations for YA and MG books that fit this category and HEARTS UNBROKEN looked to be the most up my alley of the bunch!
Same title as a song
There are probably a ton of these that everyone will come across as they browse for books! This book has been on my TBR for a while and seems like a great option to finally read – DON'T YOU FORGET ABOUT ME.
About subject passionate about
I think I'll read something related to feminism here. I've been needing to read MOXIE (and the movie is coming very soon!) so that would work.
Discusses body positivity
I'm long overdue for reading both of these. I've heard nothing but wonderful things about GET A LIFE, CHLOE BROWN and it seems like such a cute romance! It's a companion series featuring sisters too. PUDDIN' is the sequel/companion to DUMPLIN' and I definitely should have read this the year it came out.
On BLM reading list
There are a ton of options for this of course. Many, many people put lists together in 2020 after the murder of George Floyd and a ton of people tried to make more of an effort to be antiracist. I think it would be good to read a nonfiction book here on that topic but there's a chance I read fiction, depending on the list I find the book from. Why not HOW TO BE AN ANTIRACIST?
Genre hybrid
My instinct for this one is to do something like a historical fiction x fantasy book (since that's pretty common!) but there are a lot of genre hybrid options out there. I'm not going to do a historical romance because to me, that's an actual genre on its own, not really a hybrid? IDK. I think THE INVISIBLE LIFE OF ADDIE LARUE will fit this one well for me.
Set mostly outdoors
I'm not into survival books really but BE NOT FAR FROM ME is from a well-regarded author… so maybe I'll try it? It sounds creepy but the survival/alone in the woods thing gives me the willies. ONE WAS LOST seems like more a mystery with some creepy things in the woods/camping so we'll see which I go with…
Something broken on cover
I already read BEHIND THE RED DOOR last month and as you can see, there is broken glass on the cover. I have to be honest that I don't recommend this one but I'm featuring it because I already completed the prompt haha.
Muslim American author
I've been sleeping on the third MS MARVEL graphic novel in the series so this is a good way to start catching up! I also have had YES NO MAYBE SO on my TBR for a while – it's by Becky Albertalli and Aisha Saeed, so one of the authors is Muslim American.
Published anonymously
This is a tough one – there are a few books out there, of course, published by actual Anonymous on the cover. I read GO ASK ALICE back in high school and don't want to revisit it haha. I think many people are choosing pseudonyms or aliases, or books where you didn't know who actually published it back when it came up (like a woman who couldn't put their name/gender to get published). I'll need to think on this…
Oxymoron in title
I thought this was going to be a hard one but I've had THE WORST BEST MAN on my TBR for a while, and even have a review copy that's overdue. Time to read it finally!
About do-overs or fresh starts
Any book that involves someone moving to a new place could certainly fit here. I wasn't planning for this one but THE WIFE UPSTAIRS involves an MC with a somewhat mysterious past who lands in a new, ritzy neighborhood to "start over" a bit. I've already read it and enjoyed it.
Magical realism
Both of these have been on my TBR for a little while and sound great, but I currently have VANESSA YU'S MAGICAL PARIS TEA SHOP out from the library. I should probably get to that one and read OONA OUT OF ORDER another time.
Set in multiple countries
I enjoy YA books where the MC goes on a life-changing trip across Europe or something. I may come across one of these as I get reading, but for now – I used some of the lists on Goodreads and pulled matching books from my TBR. I'm looking at THE GLASS HOTEL, A DISCOVERY OF WITCHES (will I ever finish this series?! I need to reread book one), or THE CONSPIRACY OF US.
Set somewhere you'd like to visit 2021
We're hoping to go to Hawaii for our honeymoon but obviously we're not sure if that'll happen in 2021. The more realistic option from a vacation perspective is Maine, as we have tentative plans for that already. This prompt is mostly where you'd LIKE to visit but not necessarily where you WILL visit, of course. THE LAST HOUSE GUEST is set in Maine.
By blogger, vlogger, online creator
Title starts with Q X or Z
I love when I can simply go to one of my "to read" shelves on Goodreads and sort alphabetically 😉 This is another one that may just happen naturally as I pick and read books, but ZODIAC and A QUESTION OF HOLMES would work here – I've been meaning to continue the Charlotte Holmes series!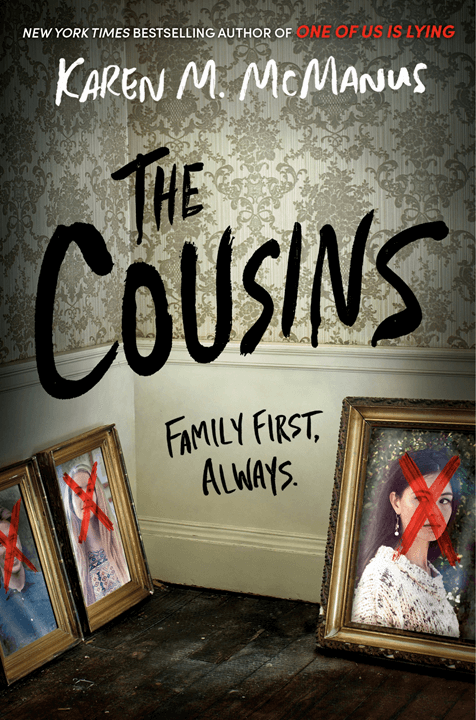 Featuring three generations
As I mentioned above, I used THE COUSINS for this prompt because it involves the three cousins, their parents, and their grandmother from a plot perspective. It's very family-based and definitely works here, or for the family tree prompt.
About social justice issue
Tons of really great options for this, especially lately. I could use MOXIE for this one too but I'm thinking CONCRETE ROSE or THE NEW JIM CROW would be a good fit for me here. My friend lent me the latter a few years ago and I really should get to it!\
Different format than normally read
I went to my 2020 reading stats to see which format I read the least. I will usually read a book as an ebook or physical final/published copy and mix in the audiobook when appropriate. The two formats I read the least are straight-up audiobooks (meaning I rarely read a book 100% via audio) or physical ARCs. I haven't acquired as many physical galleys since Covid and stick to egalleys, but I thought this would be a good opportunity to read a backlist one I have on my shelves. LAST SEEN LEAVING or THAT NIGHT are good backlist options.
Fewer than 1k GR/Amazon reviews
I have to admit that us bloggers are luckier with this one – if you read a review copy before the pub date, you're definitely going to find that there are less than 1,000 reviews! I just am showing my review copy with the farthest out pub date so I can guarantee a small number of reviews/ratings. THE SUMMER COTTAGE fits the bill.
Best friend would like
I have a number of friends with very specific interests or hobbies, as well as friends who actually read books too! Chris reads a few books per year as well. One of my friends that reads usually goes for books relating to mythology or mystery/thrillers. Chris likes comics (superheroes mostly), memoirs about celebrities he likes, or fantasy sometimes. Another friend is super into true crime like I am. My mom reads murder mysteries. Tons of options for me so I'm going to just put a placeholder mystery/thriller/crime book like ONE BY ONE.
About art or artist
I know like many of these prompts, I'll come on to this book without pre-planning it, but MISTER IMPOSSIBLE features art prominently. I know I'll be reading this one ASAP when it comes out! Something else could easily fit this prompt in the meantime too.
Everyone has read but you
This is obviously up for interpretation, but I've included two modern classics or recent books a ton of people read: WHERE THE CRAWDADS SING and THE VANISHING HALF. I could also pick a book from my TBR with a super high number of ratings too.
Fave prompt from past challenge
I'm not going to include a rec for this one because as usual, I'll end up finding something later. Here is a list of all past prompts to browse when needed. Some of the early categories are "easy" like book you bought/read for the cover or published in X year. Super easy to just read a book published in 2020!
Longest book (pgs) on TBR
I don't know that I'll actually ever read the *longest* one on my overall TBR so I'll probably cheat the system here and read the longest book on a monthly TBR (for example, ACOSF would be on my March TBR) or on a specific TBR from a Goodreads shelf. OUTLANDER is the actual longest on my TBR.
Shortest book (pgs) on TBR
I may read a childrens book (BACKYARD FAIRIES) or a novella (BEFORE THE FALL) for this one. Both apply and have the "shortest" amount of pages on my TBR.
Prettiest cover on TBR
As always I will mention that I'm obsessed with covers. I have my Goodreads shelf to refer to – any book I read off this one should count as "prettiest." The first book that came to mind for this was LAST CHANCE BOOKS though because I'm obsessed with it. The watercolor illustrations, the hearts, the colors, the books. Come on.
Ugliest cover on TBR
I still haven't read the Lux series because these covers are my least favorite on earth. OBSIDIAN is the first book that came to mind for this prompt. I'm not sure if I'll read these so I may cheat and pick my least favorite book cover from my monthly TBR, but we'll see.
Been on TBR the longest
I have a priority TBR on Goodreads and picked from there – THE ART OF LAINEY has been on there since 2014 and is definitely one I should have read about a hundred times since then!
From last year's TBR
There are a lot of holdovers from last year but KISS MY CUPCAKE and SEX AND VANITY honestly came to mind first. I think it's because I've put them on every monthly TBR since like October? November? I know that's late 2020 but still.
Assoc with fave person, place, thing – from TBR
This is a fun one! My favorite person is Chris, my favorite places are Cape Cod or Maine, my favorite things are probably wrestling, Lego, reading… Lots and lots of options! I'm going to include THE SECOND HOME here because it's set on the Cape and I've been wanting to read it. I could think of others when the time comes.
Chosen at random from TBR
I'm going to do this when I'm in the mood, obviously can't really plan it. Maybe when I make my March TBR, I'll click on a specific TBR shelf (I'm thinking my egalleys to read?), do a random number generator, and go from there.
DNF from TBR
I have 16 books on my "come back to" list – books I started reading and put aside, hoping I'd want to come back later. GIRL AGAINST THE UNIVERSE and HAUNTING THE DEEP were not really DNFs obviously but more like books I paused reading and wanted to come back to.
Free book from TBR (lib, gift, etc.)
This is another one that's easy for book bloggers too – review copies are technically free and I do have plenty of them to choose from. I decided to be straight about his one – I preordered two books from Target and they were doing a buy two, get one free sale. I ended up with SKINNYTASTE MEAL PREP as a free book in my order!
Related Posts