Naturally, I just posted about the lowest rated books I've read and now it's time for the highest! I decided to skip over some of the super-obvious ones (like the Harry Potter series or any classic with millions of reviews) and also didn't want to duplicate the conversation with books in a series (for example, many books in the SJM series and the Illuminae Series would be in this list, but I'm only doing the highest-rated book from the series).
---
Let me start out by saying that I am not surprised that books with fairly rabid fanbases would have such high ratings – between the SJM series on here, Leigh Bardugo, Holly Black, Lunar Chronicles and the Illuminae books, I know how us bloggers and fangirls can be! I definitely figured they'd have super high ratings. There were multiple books from these series in my top 15 or so, but I only included the highest from each series.
ACOMAF by Sarah J. Maas | I definitely enjoyed this one a lot. It brought the series together in a cool and unexpected way for me, but I feel like I loved ACOTAR the most. I know that the whole series is polarizing, so I'm not surprised that ACOMAF, which is book two, would have a higher average rating. All of the people who read ACOTAR and hated it would not be as likely to continue with the second book.
Crooked Kingdom by Leigh Bardugo | Same thing here – people who didn't love SoC for whatever reason probably quit before CK. It took me yearsssss to get to this one because I didn't love SoC as much as other people, but good lord – this book was such heartbreaking perfection. Totally deserves this spot.
Queen of Shadows by Sarah J. Mass | Another non-surprise here. QoS is the fourth book in the ToG series, which means allll the people who read it are super committed to reading this series. On top of that, it was my favorite of the initial books too. Does that mean I ran out and read the next one? No, because I am the worst, but still. This was the most solid and intriguing installment for me.
Obsidio by Amie Kaufman and Kay Kristoff | Man, this series was such a wild ride that I loved. And again, like the other three books I just talked about, the people reading the third book in this series were clearly committed to finishing it off and loved it. I think it was my favorite of the three? I genuinely don't remember.
The Hate U Give by Angie Thomas | God this book is EVERYTHING. And it HAS everything! Humor and sadness and family feels and romance feels… just all the things rolled into one super important story about police brutality. I can't praise it enough – it lives up to the hype and more. Well-deserving of a top average rating!
Thirty-Six and a Half Motives by Denise Grover Swank | I can't lie, seeing Rose Gardner books in my top average Goodreads rated was a shock. They're self-published, I believe?, but definitely have a big fan base. And it's not like this book only has a few hundred reviews – there are thousands of them! Thousands and thousands of people rated this book highly enough to get a 4.53 rating. I liked it enough but there's definitely a gap in my rating compared to everyone else…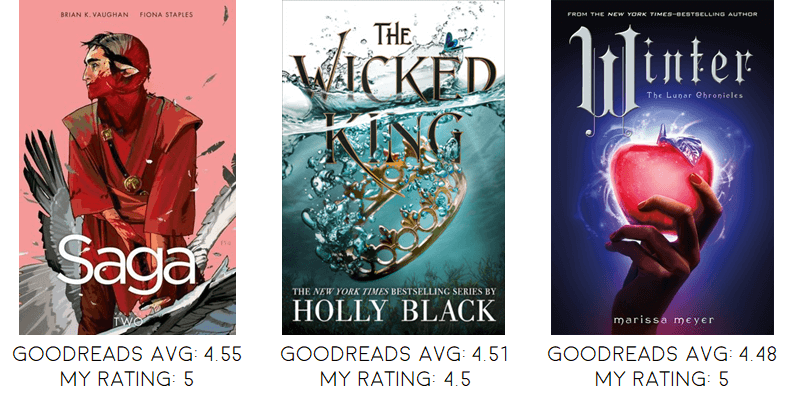 Saga vol. 2 by Brian K. Vaughn | I fully agree with this – of all the installments I've read so far, I liked this one the most. I thought everything got pulled together well and I was less confused and "thrown into things" compared to the first book. There were actually a good number of Saga installments in my top on Goodreads!
The Wicked King by Holly Black | I think a fair amount of people thought that the first book was boring. It took me foreveerrrrr to read it, even though I was so excited and eager. I can see their opinions and that's probably why many people didn't move on to the next book, but those who read it loved it. I enjoyed it SO MUCH and can't wait for the next installment.
Winter by Marissa Meyer | Same story here. Allll of us obsessed Lunar Chronicles fans were waiting for Winter to come out and loved it, because how could you not?! The entire band was together for the final time and evil was to be defeated. I absolutely loved this book and series with all of my heart.
Related Posts