I've always been a reader and have enjoyed reading books of essentially any genre. There are, of course, genres or topics that I generally don't read as much (historical fiction and non-fiction) – but really any topic is fair game for me! I'm a mood reader and I tend to read clusters of books within a certain genre, one after another, until I get "bored" with it for the time being and move on to the next general topic. Lately I've been on a contemporary binge, so I've switched over into some paranormal/parallel universe/time travel books over the coming weeks.
Here's a list of the ten books that got me hooked on a certain genre or topic. [You can assume that all of these fall under the Young Adult umbrella, too!]
The books that really got me started into my tried-and-true favorite genre, Contemporary YA (normally Romance) were those by Sarah Dessen. She's definitely still an auto-buy author for me. I'm so excited she a new book coming out within the next year! I read more of these books than any other genre by a long shot. I'm hoping to change that up sometime in the near future though. The next book I'll be reading is Just Like the Movies by Kelly Fiore. I checked it out from the library and will be including it in Swoony September, once I finish with my ARCs.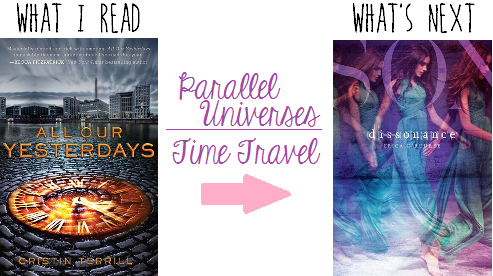 My current obsession is books that have to do with time travel or parallel universes. This was always an interest of mine, but I truly hadn't read any books about this topic until I listened to All Our Yesterdays by Cristin Terrill. The book was so interesting; I couldn't help but try to add similar ones to my TBR. Dissonance by Erica O'Rourke has been probably my most talked-about and anticipated book of the year…and yet I still haven't read it. I finally checked it out from the library and will be reading it as soon as humanly possible! The concept of parallel universes being created from every decision we make is something that has interested me for so long.
I can't lie. Of course Twilight is what got me into other paranormal books. It's one of those books that people are now embarrassed about loving and realize how creepy Edward really was. I definitely give the series credit for getting me into this genre, though. Paranormal generally includes books about some kinds of mythical creatures (vampires, aliens, etc.) living in a world of humans. Next up for me is the Lux series by Jennifer Armentrout. Obviously I can't resist it any longer; SO many people are obsessed with these. You know by now that I despise the cheesy, awful covers, and until now I haven't been able to look past it.
I think I tend to stray away from New Adult because they're so over-dramatic and angsty. However, Beautiful Disaster by Jamie McGuire is a really well-done New Adult. I also LOVED Boomerang by Noelle August, so lately I've been tempted to give NA another try. I've already purchased Ten Tiny Breaths by K.A. Tucker – it's just a matter of reading it!
The Harry Potter series is obviously a god among books. That goes without saying. The fantasy world it created, with magic, witches, wizards, and other just really fucking epic things, is absolutely unforgettable. Since I've started blogging, the Throne of Glass series by Sarah J. Maas is easily the most-talked about series. I love a badass heroine like everyone else, so I know I'll be reading these ASAP. I have the audiobook and Kindle version right now…it's just a matter of preparing myself mentally!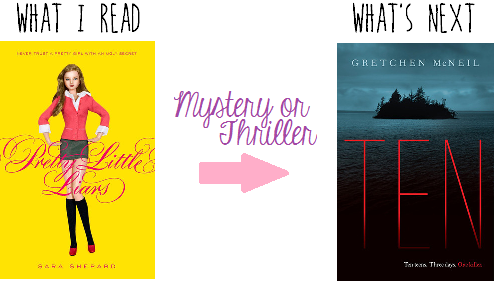 It's no secret that I tend to be scared of Mysteries and Thrillers. I don't want to stay awake at night thinking I'm going to be murdered in my sleep. The Pretty Little Liars series, which I started back when this first book came out, was a lighter way of getting me into Mysteries. It had all of the features of a Mystery book, as well as many Contemporary features. I grew to love following the characters (even though they're all idiots) and waiting on the edge of my seat. I also loved Agatha Cristie's And Then There Were None series, so I had to jump on Ten by Gretchen McNeil when I saw it. I'm sure it'll creep me out a lot more than PLL, but it's worth a shot!
I first read Elsewhere by Gabrielle Zevin waaaay back when it first came out. I loved the concept: a girl who has to live her life backwards after she dies. It created the interesting land called Elsewhere, where everyone goes as kind of a heaven. Since then, I've read a couple other books about the afterlife or the place in between life and death (like Before I Fall by Lauren Oliver or If I Stay by Gayle Forman). The book When by Victoria Laurie hasn't come out yet, but it's a book about a girl who can see people's death dates above their heads. Cool, huh? A little different than the books I just mentioned, but has the same overall concept of death or dying. (Morbid.)
I'm always intrigued by the idea of a Dystopia or Utopia setting. Like most others, the Hunger Games was a great first exposure to this genre. I've never found a book that quite compares to it (that I've actually read…). I have a bunch sitting on my shelf that I know I need to get to at some point, but it seems like the Selection series by Kiara Cass is calling my name more than others. People really love these books and I'm anxious to get going on them soon!
Now for the books that are exceptions to the rule – I generally don't read the genre, but of course there are always some that pop up!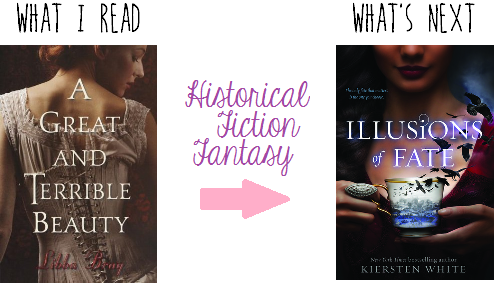 I really don't enjoy much Historical Fiction – if it's just historical or historical romance. However, when you add in the Fantasy piece — I'll definitely consider it! A Great and Terrible Beauty is one of my all-time favorite series, and that brought some fantastical/magical elements into a book that took place many, many years ago. That's something I can get on board with for sure. Some recent additions to my TBR include Salt & Storm by Kendall Kulper and Illusions of Fate by Kiersten White.

If a Non-Fiction book is about a topic I'm generally interested in, I will certainly give it a shot. I've read a bunch of books for school that fall into this category, but none of them have ever motivated me to find more books like them. When I read Beyond Belief, a story about Jenna Miscavige Hill's escape from Scientology, I found myself wondering what other Non-Fiction books I'd enjoy. Positive by Paige Rawl has been getting a lot of attention and seems like it will be really interesting. It's a memoir by a girl who was born HIV positive and deals with constant bullying throughout her life. Sounds interesting and powerful!  

Related Posts