The Bookmark Lit Bulletin was created to wrap up each month and prepare for the next. I share my life happenings, book haul, books I read and reviewed, posts I shared, challenge updates, and more from the previous month. I also let you know what may be coming up on the blog in the coming month. You can read past bulletins here and learn more about the feature here.
---

10 books read →  Physical: 5 | eBook: 2 | eARC: 1 | Audio: 1 | ARC: 1 | Format mix: 0
In 2015… 137 books read of 175 Goodreads goal [78% complete, 7 books ahead of schedule] Blog posts this month: 14 books reviewed and 14 other posts  |  Challenges this month: 1

Well, the time finally came where I decided to get lazy about reading. Definitely not a great month overall, but there was a decent amount of quality over quantity. I enjoyed a lot of the books I read!


Average rating for books read in September: 3.9 stars
Highlights of the best and worst…
Best of the Best  |  Pleasantly Surprised  |  Disappointed 

All of the books read this month:

I don't buy a lot of books in general, but I receive a lovely amount from my Secret Sister and through some preordering! I didn't spend a lot of money on books this month, which is a big win for me.
Secret Sister Project
New sister's second box: Ask Again Later by Liz Czukas, Naomi & Eli's No Kiss List by David Levithan and Rachel Cohn, Emerald Green by Kerstin Gier, matching sticky notes and notepad, Carolina Panthers duffel bag, elephant from Panthers fabric, and Panthers Kindle case, Big Sour Patch Kids
Thank you so much, your thoughtful gifts seriously made my (birthday!) month ♥
Other books acquired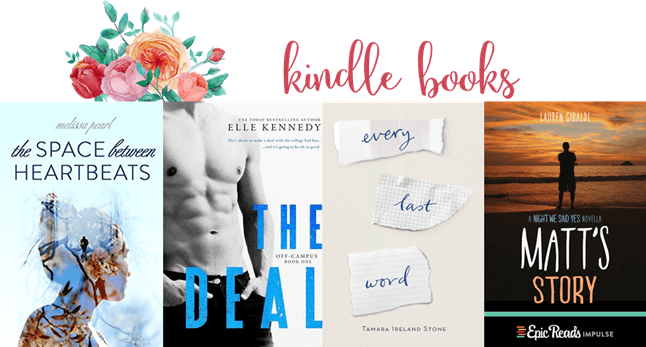 Kindle eBooks: The Space Between Heartbeats by Melissa Pearl, The Deal by Elle Kennedy, Every Last Word by Tamara Ireland Stone, Matt's Story (novella) by Lauren Gibaldi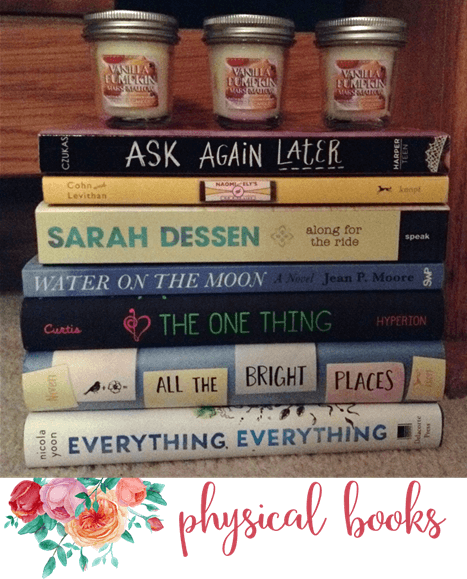 Library books: The Sacred Lies of Minnow Bly by Stephanie Oakes, Magnolia by Kristi Cook, Resonance by Erica O'Rourke, The Remedy by Suzanne Young | Secret sister gifts: Ask Again Later by Liz Czukas, Naomi & Eli's No Kiss List by David Levithan and Rachel Cohn, Emerald Green by Kerstin Gier (not pictured) | Preordered: Dumplin' by Julie Murphy, Everything Everything by Nicola Yoon, The One Thing by Marci Lyn Curtis | Blog tour ARC: Water on the Moon by Jean P. Moore | Traded (thanks Erin!): Along for the Ride by Sarah Dessen, All the Bright Places by Jennifer Niven

Top Ten Tuesdays: Characters I Didn't Click With, Finished Series to Finish/Start, Freebie: Books I'm Excited to Read (and the Excuses for Why I Haven't Yet), Fall TBR, Books to Read if You Loved…Second Chance Summer
Discussions, Features, Challenges, and Personal: Reading Recap (with stats!), Five on Friday, Feminism & Relationships in YA, Football Book Tag, Fate vs. Choice in Books, Disney Princess Book Tag, Beat the Heat Readathon Wrap-Up
Inside & Out: Chris (my boyfriend), Cynthia from Bingeing on Books

What a month. September is my favorite month and I definitely did a LOT of fantastic things. My birthday was at the beginning of the month and we had some friends come visit for bowling at a nearby "adult" bowling alley type of place. It was so much fun to see everyone. We had two friends stay over and we all went to the Woodstock Fair for the day. It was super hot and I was queasy all morning, but overall it was a good day! On my actual birthday, Chris an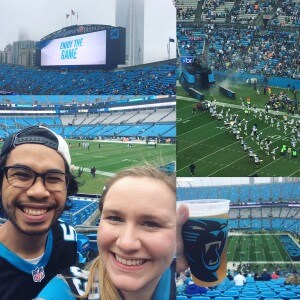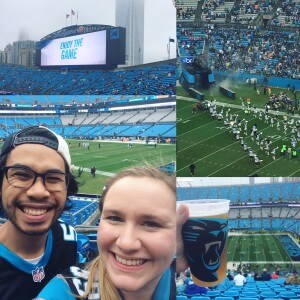 d I went to Dave and Buster's for some arcade games and dinner with two of my friends. Early that morning of my birthday, I had a phone interview for a job I'm very excited about. We'll see! The beginning of September is also the start of football season, so I have been very excited to watch every single game that I can. My best friend had her baby, so I made sure to visit and see the little cutie a couple of weeks ago too. Chris and I celebrated our three year anniversary on the 16th, so we went and had sushi at the restaurant where we had our first date. We kept it simple and didn't buy each other gifts, but it was a great night. We went to Charlotte last weekend from Thursday to Monday, in order to see a Panthers game in person! I was able to use the new Panthers duffel bag from my Secret Sister and it was a lifesaver! It held everything I needed for the plane. We had a lot of fun exploring the city a little more, checking out a museum, having some southern food, catching a movie (The Scorch Trials – it was pretty good but nothing like the book of course), and relaxing in our hotel. It rained the ENTIRE time we were there, but did clear up a little bit for the game itself! We were smart and decided to take a bonus day off from work when the trip ended, so we had a full day to relax, unpack, and prepare for work again. I ended up seeing The Intern with my coworker and it was really great! I was pleasantly surprised.

HOW HAS THIS BEEN MISSING FROM MY LIFE SO LONG? Friday Night Lights has been my latest solo binge-watch. I like to watch one episode every morning before work and it takes a lot of willpower to stop watching to get in the shower. I LOVE the coach and Matt and Tim and the FOOTBALL. Like honestly, why didn't I watch this when it was on TV? Regardless, I'm so pleased it's in my life and I have a good amount of seasons to work through 🙂
Fresh Off the Boat is starting season number two and we're pumped. I have to say, it's awesome to see TV shows that aren't full of a bunch of white people. Chris read part of the book before we started watching and he can definitely relate to a LOT of what the family goes through. I love getting his perspective, since his parents were "fresh off the boat."
After finishing Sense8 last month, we moved on to another Netflix original: Daredevil. It's good so far! We've only seen a few episodes but are definitely interested to see where things go. Chris's Marvel kick is still going strong, so he was happy when I suggested that this be our next show. I like that it has less of a superhero vibe and more a crime-solving vibe so far.
This one is obvious, but of course football is back! My baby Cam did a front flip into the endzone during week two, so DUH here's that clip. AND we got to go see a game in person in Charlotte!


Year-Long
Fairytale Challenge| 0 books this month | (Started but didn't finish) Scarlet – Marissa Meyer
Reread Challenge| 0 books this month | (Started but didn't finish) Harry Potter and the Half-Blood Prince – JK Rowling
105 Challenge| 8 books this month | New Adult: The Deal – Elle Kennedy; Time-bending: Resonance – Erica O'Rourke
TBR Pile Challenge| 0 books this month | None
Library Challenge| 3 books this month | Resonance – Erica O'Rourke, The Remedy – Suzanne Young, The Sacred Lies of Minnow Bly – Stephanie Oakes
Flights of Fantasy Challenge| 0 books this month | (Started but didn't finish) Harry Potter and the Half-Blood Prince by JK Rowling
Audiobook Challenge | 1 book this month | The Boy Most Likely To – Huntley Fitzpatrick, (Started but didn't finish) Harry Potter and the Half-Blood Prince – JK Rowling
Series-a-Month Challenge | 0 series completed this month | None
During this Month
Beat the Heat Readathon | August 24 – September 6 | I didn't really focus on this one because I was burned out, but I did pretty well I suppose. | Sign-Up/Progress, Wrap-Up
 Seasonal
Summer Bingo | September, October, November | I love these bingo cards! This month seems harder than last month for me, so we'll see! I almost filled my whole card last month. I definitely didn't think I would read the "religious minority MC" because I usually wouldn't, but I pulled it off this time!| More info/books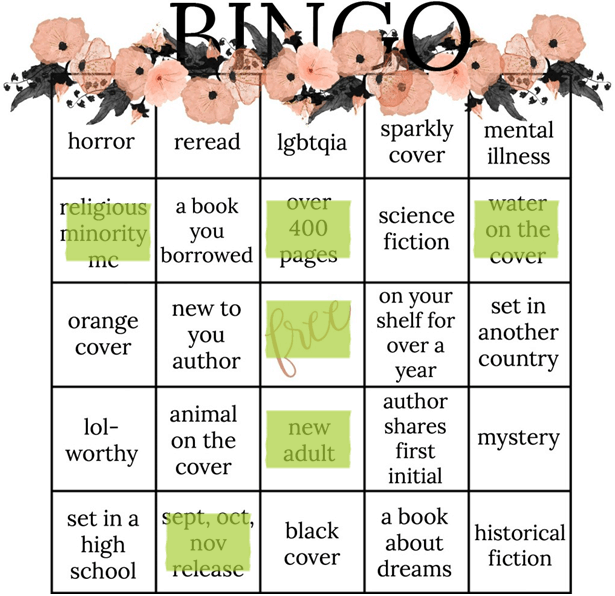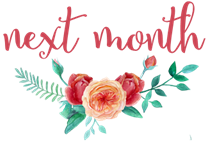 October is going to be another busy one. I can't believe it's already here! How is the year going to fast? We PLAN on going to the Big E (a huge fair in New England) this week, but it looks like the rain is going to ruin those plans. Clearly we brought the rain back with us from Charlotte. I am hoping to go with my mom tonight and again this weekend with Chris, but who knows. The following weekend we have plans to go to New York to see The Room in theaters with the creator in the audience. It's a cult movie that most people haven't seen, but it's literally Chris's lifelong dream to do this. We're going to stay with my friend in New Jersey that weekend. We also have some potential plans for Chris's birthday in the middle of the month, like dinner with his family and doing Lego things. Chris's family is going to California for a long weekend, so we're going to be house-sitting for them! Their place is gorgeous and I'm excited to "live in a house" for a few days, instead of an apartment. Other than that, we don't have TOO much going on.

The usual posts will be here for Inside & Out and Top Ten Tuesday. Because I have a lot to talk about, I'm hoping to get another Five on Friday post up to share more details about Charlotte and everything since my previous update. I made a fun post about my dream library, which is really just the actual library I plan on creating when Chris and I get a house. I grabbed some pictures from Pinterest to show off my ideas. I also made a discussion post about blog tours and how I think they're changing into something that people want to read. I have nothing against the traditional blog tours and I think they're fantastic for books/authors… but I love seeing the new, creative ones people are coming up with! At the end of the month, there will be a joint Book Buddies review with me, Kaitlin, AND Cristina! We thought it would be fun to put all three of our heads together for the one year anniversary of the first post. That's all, folks!


Related Posts