I saw this post on The Nesting Nomad and thought it would be a fun addition to the blog! I know we're over a month into the year already (I say "already" but honestly January felt about a million years long) and this is a bit delayed, but why not keep the recap going? I'm going to share my top 9 and tell some stories about each picture (which most likely includes a book). I'm also going to show off my best 9 from my personal Instagram, even though I barely even posted that many pictures last year.
Bookstagram
Row 1, L-R:
I sat outside on an uncharacteristically warm day in Connecticut and completely binged Confessions of a High School Disaster for a blog tour. The book reminded me of myself back in ninth grade (not all of it – some parts she was a bit questionable). I'm also wearing some of my favorite Lularoe leggings with elephants!
You'll see pretty quickly how much I love reading outside. This was during a lunch break at work when I was finishing up Roar. I didn't love the book, but this skirt (also Lularoe) is one of my faaaavorites). I stopped for a smoothie during lunch as well, clearly.
Before we moved to Portland, we spent around 2 weeks living at Chris's parents' house after our lease ended. I love their outdoor area, with the pool and comfy seating everywhere. I spent a good amount of time hanging out back there (this was in June) and reading before the whirlwind move happened.
Row 2, L-R:
Another picture of me reading outside, this time out on our old back porch. I look at pictures like these and I totally miss our old apartment! We specifically moved there because they had great outdoor spaces, like this porch. We got some plastic Adirondack chairs and a little table so we could relax outside. I did this in the morning before work a lot.
Book haul! I don't take a lot of these pictures because I don't buy a lot of books, but clearly that month was an exception. I binge-reread The A-List with Cristina over the summer (perfect quick summer series!) and had to acquire copies of the books again. I'm so glad that I have a full set again because I have no idea what happened to the rest of them.
I visited one of our clients in southern Connecticut and made sure to bring a book along. I got a little sandwich at a deli (recommended by a friend who lived there) and read my book while I waited. It was just a nice break in the day after my meeting, before driving home. I'm pretty sure I finished the What to Say Next while I sat there.
Row 3, L-R:
Eeeek I'm so happy this is here! My sister and I went down to Fairfield, CT one weeknight to meet Sarah Dessen and hear her speak about Once and for All. I personally loved the book and it was amazing to meet Sarah! She's been my favorite author since the early 2000s and my sister is new to her books. I got a trivia question correct to win a notebook and pen based on the book too. I told Sarah how much her books have meant to me and how wonderful sharing them with my sister has been <3
Yet another picture of me reading on the porch with my blanket! I don't know which book this was but I would kill to have that weather and that porch back in my life. Hopefully our next place has a great porch! (Honestly that's kind of one of my requirements again anyways…)
One of my very favorite books of the year, if not my most favorite! The Names They Gave Us, despite have a lot of religion involved, was an absolutely fabulous book written by one of my all-time favorite authors. I was sooooo thrilled to get a review copy from the publisher too.
Personal Instagram
(Please keep in mind that most of these top pictures below were in slideshows and
you can't see all of the pictures within them) (And yes, I cut off my username on purpose)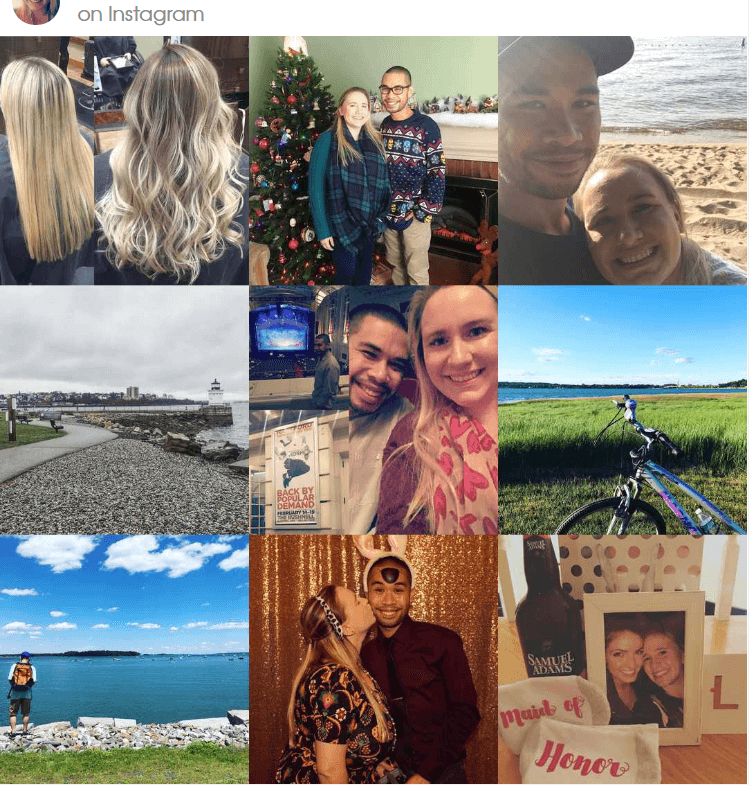 Row 1, L-R:
Before we moved away, I wanted to get my hair to be a bit lower maintenance. My hairdresser is one of my best friends so we decided on a coloring style (balayage) that would allow me to go longer between dye jobs and cuts. I love having to dye my hair less and the roots are SO much less obvious when it starts to grow out. She did a fabulous job as usual!
Christmas 2018 at my Nana's house. I think this was a slideshow again? Maybe? I don't remember. Either way, Chris had his excellent Avengers Christmas sweater that I hope he'll keep enjoying for years to come, because it's too fun. I hadn't quite figured out how to wear my blanket scarf yet LOL.
We took a little day trip to the Sebago Lake area of Maine, which is like 30-45 minutes away from Portland. We went for a hike in the morning, found a small beach to relax on (where this was taken), and got a lot of food and ice cream while there. I can't wait to go back when the weather gets warmer again.
Row 2, L-R:
Maine is known for alllll the lighthouses, and there are quite a few in the general Portland area. This is Bug Light in South Portland, which is the first one we encountered since moving. It's really small but the best part is the view across the water into downtown Portland/the main area of the city.
We went to see Book of Mormon when the show was on in Hartford on Valentines Day of last year. It worked out really well for a double-holiday thing, since I got Chris the tickets for Christmas and it meant we automatically had Valentines Day plans! The show was hilarious, the songs are awesome, and Chris is cute.
I know this was a slideshow of some fresh Portland pics when we first moved. The one you obviously see here is my bike by the water. We looooved riding around the Back Cove and into the city whenever we could during the warmer weather. I can't wait for that again!
Row 3, L-R:
Another bit of Portland scenery, including Chris. This was on the Eastern Promenade trail that brings you into the Old Port section of the city. It takes 30+ minutes to get from our apartment to the Old Port using this trail, but it's WAY more scenic than going through downtown. I love the colors!
We went to Chris's best friend's wedding (to girl who was one of my good friends in middle school). We took a few funny photobooth pictures but this one is my favorite. It was the second stop on our three-year-long Tour de Weddings that we're currently in the middle of – two weddings in 2017, four weddings in 2018, and one (probably two though) weddings in 2019. SIGH.
Finally, my friend Paige asked me to be her maid of honor for her wedding in 2019! I'm really excited because wedding planning is something we've talked about since we first became friends. We always thought we'd open an event planning business together so it's very appropriate that I help her make the best wedding possible <3
Related Posts