Favorite Ships From 2017
Top Ten Tuesdays were started by The Broke and the Bookish and are now hosted by That Artsy Reader Girl, where we make lists of our top ten books (or something else!) based on that week's prompt. The topics are provided ahead of time and can be found here. Book links bring you to Goodreads or my review.
I'm obviously a big contemporary romance reader, so there are many, many ships to celebrate from books that I read in 2017! So, clearly, I decided to take this love-themed freebie to talk about some of my favorite ships and overall romances from 2017. I didn't include long series like Black Dog Bay or Haven Point or Blue Heron just because my whole list could have been romances from each of those companion novels!
Jill and Max from Kissing Max Holden | Neighbors/childhood best friends to more
Maggie and Levi from Coming Up for Air | Best friends to friends-with-benefits to more
Leila and Nick from Crazy Little Thing Called Love | Secret, temporarily "forbidden" romance
Lily and Cade from PS I Like You | Secret pen pals and hate-to-love
Amber and Charlie from The Best Kind of Magic | No real trope, just romance
Lara Jean and Peter from Always and Forever, Lara Jean | Final chapter in trilogy, college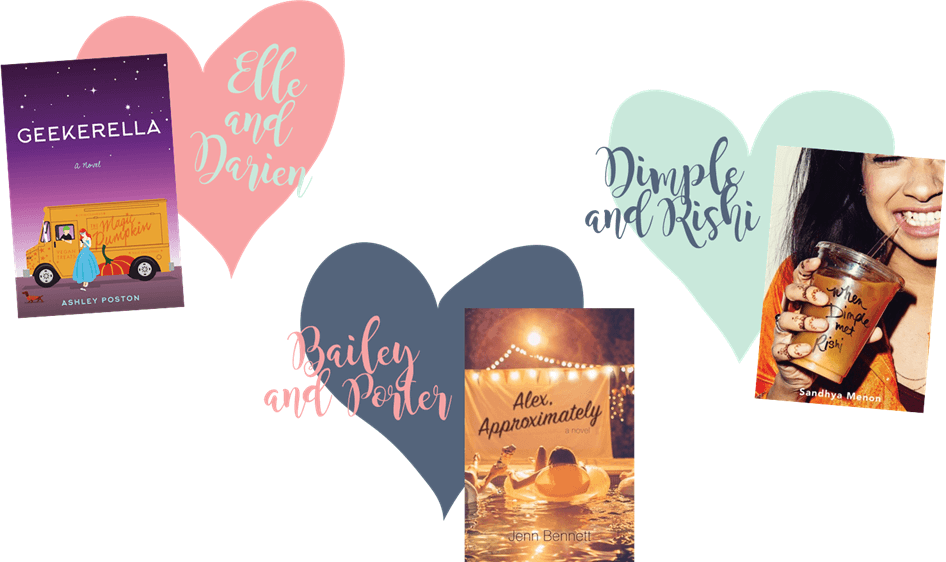 Elle and Darien from Geekerella | Celebrity/normal girl romance and secret pen pals
Bailey and Porter from Alex, Approximately | Internet friends and hate-to-love
Dimple and Rishi from When Dimple Met Rishi | "Arranged" and hate-to-love
Related Posts