I caught this making its away across the blogosphere and was tempted to join in, but then Madalyn made my life easier and tagged me! This was created originally by Amber @ Du Livre.
---
When did you start blogging and what was your first review?
I started blogging on July 16, 2014 and my first review was for We Were Liars. I did not enjoy the book, to say the least! My first non-review post happened on the same day (because I was a bit intense when I got started) and was for my Top 10 Summer Reads. I think that's pretty indicative of my reading preferences!
Who/what inspired you to start blogging?
I remember reading Before I Fall back in July 2014 for the first time and having so many thoughts about it. I was scrolling through some of the reviews on Goodreads (before finishing the book, whoops) and noticed a lot of people had links that said "for more thoughts, go to X blog here!" and I was intrigued. I always wanted to blog (I had so many failed ones back in the day) and it truly had never occurred to me that reading/books would be a blogging topic. It wasn't my first review because I started the blog when I was in the middle of reading it, but still – this book and some of the Goodreads reviewers inspired me!
What is a blog-related goal you have?
I'm really not sure because my blog has changed so much over the years. I think I would have loved to be a big blogger with all the views, all the comments, and all the advanced copies, but that has sort of passed me. I've made a slow go of gaining a following here and I don't really care that much. I find writing about books and my life to be cathartic, and I would probably blog even with one follower. I love tracking my life. However, I would say that moderating a panel (or author event/signing) and/or being in the acknowledgements section of a book and/or blurbing a book would be goals I still have.
What is your biggest blog-related accomplishment?
I think just having this blog is an accomplishment because I am a major quitter. I've tried multiple sports (just for one season), tried playing an instrument, tried other blogs, tried new hobbies like knitting or journaling, etc. – the list goes on – and I just quit them all. For me, having a blog since 2014 is WILD and unexpected. I'm happy about meeting new friends and developing relationships too.
What types of posts do you enjoy writing?
I like writing more personal posts, or connecting books to personal things. Recommendation or top ten lists are fun for me all the time. Connecting my interests or other hobbies to books or just sharing glimpses at my life are really enjoyable posts for me to write. I don't mind writing reviews and still see the value in doing so, but I prefer bookish posts like discussions or fun features instead.
Where do you usually blog? What does your setup look like?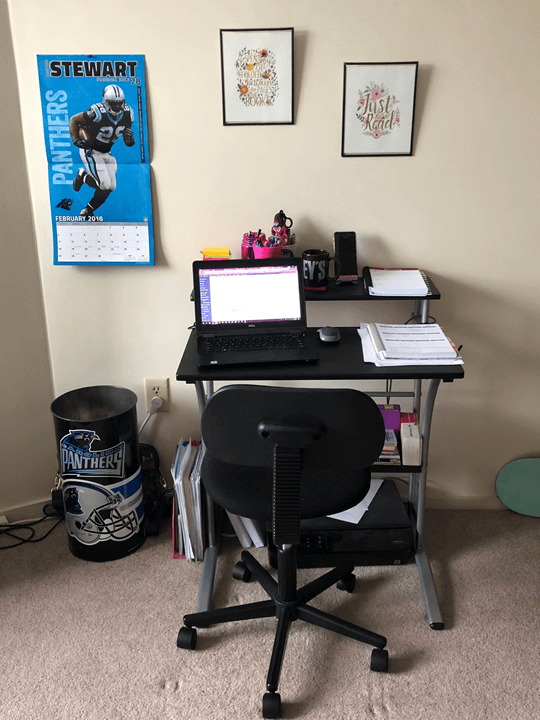 This is my setup right now! I blog a lot from my desk, since I take work breaks (including mostly lunch) to write posts on here. I keep my laptop on the desk all the time, since I currently work from home, with my bookish and personal planners open to the current day. I have markers, pens, and other office supplies everywhere. My work phone is propped up using a Lego phone stand Chris made me recently. I do blog from my bed when I'm feeling super cozy.
What was your last 5-star read?
My latest five star read was DEAR MARTIN. Very powerful book in a small amount of pages! It was really interesting to read Nic Stone talk simultaneously about the bigger issues with being black in America (police brutality and race relations) and also the daily/smaller issues (like stereotyping, casual racism, and more).
What was your last 1-star read?
I'm pretty generous with rating usually, but my lowest ratings have been a half-star (SEPTEMBER GIRLS) and 1.5 stars (TWISTED PALACE and THE STRANGE AND BEAUTIFUL SORROWS OF AVA LAVENDER). I will usually DNF a book before it can get to that point, but for some reason I stuck it out with these ones. Curiosity of how they'd end probably got me. The most recent one of these three was TWISTED PALACE.
What are three words that make you pick up a book?
I have a whole blog series on my read-bait words, if you're curious about checking those posts! I'm going to include topics/phrases instead of just one word apiece, okay?. So, my top three, out of alllll the ones I've covered, are probably:
Parallel universe or lives / multiverse / multiple timelines based on a choice / etc.
Stuck in limbo between life and death / the afterlife-ish
Boarding school / private school
Some honorable mentions and a full-on list of favorites can be found here.
What is your Hogwarts house?
I'm a Hufflepuff, which honestly fits me way too well. I have a tendency of caring a bit too much about other people, to the point where even commercials about fictional people can make me sad. I get hit with feels too hard and will do way too much to make sure other people are happy, even if it means sacrificing my own. It's something I have to work on and DAMN this question led to an unrelated tangent.
What is your favorite reading environment?
Ooooh I love talking about reading spots. I have a horrible old post about this that I don't want to link here, but one of my favorite spots is walking in the pool in circles with my book above water, or hanging on a float. I read in the bathtub, in my cozy bed, outside on a porch or blanket, or on the beach. Those are some of my favorite spots! I would rather read outside on a warm day than read anywhere else… although a nice hot chocolate in bed on a snowy day is great too. I've posted about some of my summer reading spots too!
What advice would you give to new bloggers?
Do what makes you happy. Don't pay attention to the numbers or let jealousy get in the way. Read what you want, whenever you want. Post whenever you want, as often as you want. Make your blog as YOU as possible, even if that means talking about yourself almost as often as you talk about books. — I'm probably a bad person to get advice from because none of these pieces of advice equate to getting more views or comments. I just like to blog and have fun with it; don't let it put pressure on you!
Related Posts