Because my Bookmark Lit Bulletin wrap-ups got out of hand, I wanted to break up my monthly wrap-ups into two posts: one personal and one bookish/bloggy. I created Lauren Lately here to highlight all of the personal happenings in my life: events, activities, shows I'm addicted to, things I'm obsessing over, recipes I've loved, and goals for the next month. I decided to space them out so this wrap-up happens around the mid-point of the month and the bookish one happens at the end of the month.
✨ Check out my most recent bookish and bloggy wrap-up HERE ✨
---
This has been a crazier month than usual, my friends. I've done a lot things and traveled to many places between the end of April and beginning of May! Here's a big ol recap: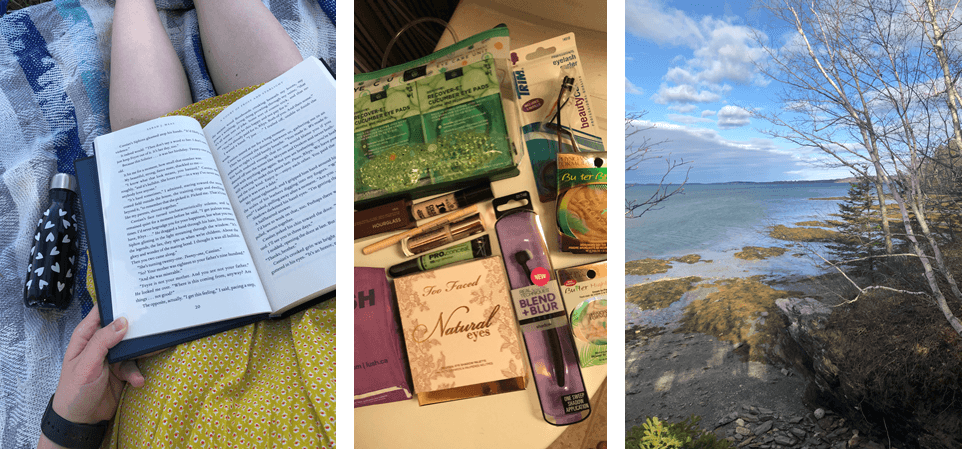 Week 1: Hikes, Makeup, and Food
The weather started warming up again and we tried to get out as much as possible for a little while… before our crazy few months started up! We went to Mackworth Island for our favorite local hike. We need to keep getting out there but it's been tough! I started to get heavily into makeup and beauty things again, as evidenced by many of my recent posts/sections. I've spent a lot of money on it lately and I MUST BE STOPPED.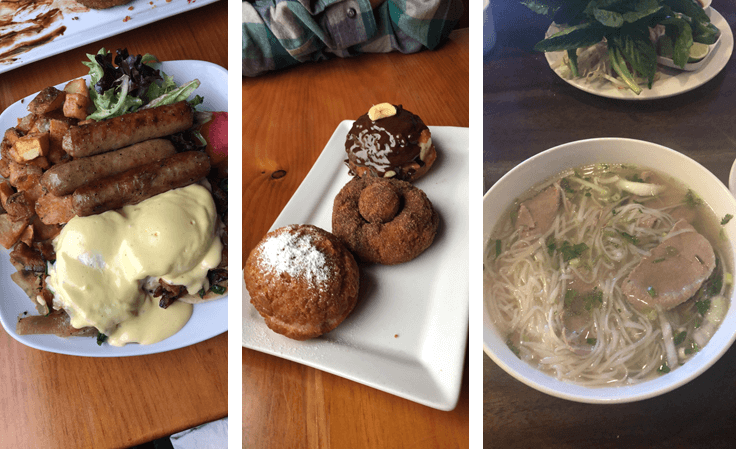 Week 2: Home in Connecticut (Lots of Celebrations)
My sister and mom have the same birthday, which happened to fall the same weekend as my cousin's bridal shower in Connecticut, so it was a very easy trip home where I killed many birds with one stone. I went straight to the shower with my stepmom after touring our new house in CT (!!!!!!). I had a birthday dinner for my little sister that night and then a birthday dinner with my mom the next night. On Tuesday, I had book club with my gals and then headed back to Portland right afterwards. This is where my recent addiction to eggs benedict began, in case you're wondering.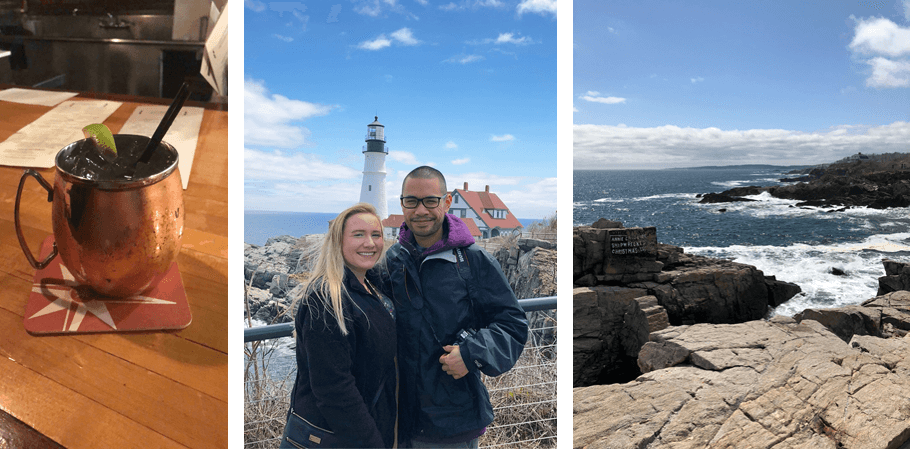 Week 3: Visitor in Portland – Downtown and Lighthouse
My friend Paige came up from Boston to visit for a night and it was so fun! We spent Friday night at a restaurant near our apartment, then went downtown to a few bars. We went to the Bar of Chocolate and tried dessert-oriented drinks, which checked that item off my Portland bucket list! The next morning, we got the Holy Donut and then took her to Cape Elizabeth to see the Portland Head Lighthouse. We had a patio lunch at a BBQ place before Paige headed back to Boston. The next morning, we tried the Frog and Turtle in Westbrook for breakfast. They had AMAZING donuts and eggs benedict.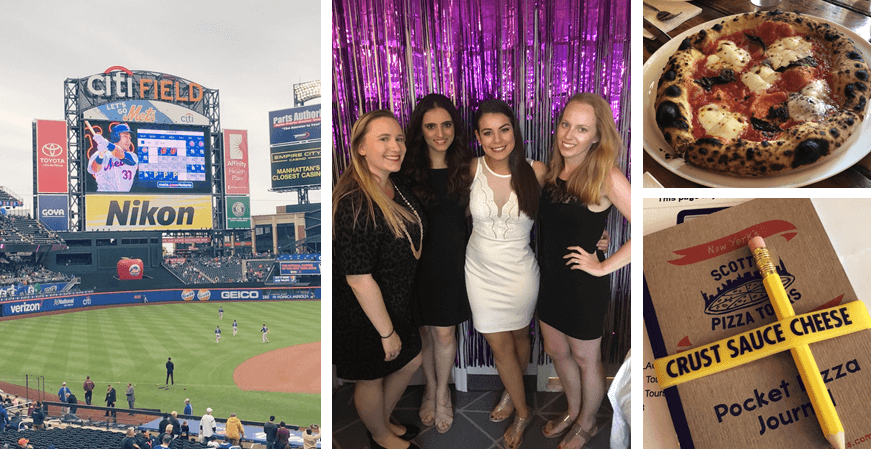 Week 3 Part 2: Home and NYC Bachelorette Weekend
Even though I had just been home, I had to head back the following weekend to go to NYC for my friend's bachelorette weekend. I spent two days in the office, saw some friends for dinner, and tried the best chicken wings in Connecticut. I slept at Alaina's house (the bachelorette lady) so we could head to NYC early Saturday morning without crew. We took the train into the city, went on a pizza tour (which was amazing), and explored Greenwich Village / Washington Square Park. It's a section of the city I've never been to and I LOVED it. I'm verrrry much not an NYC kind of gal, but this area is one I'd live in if I had to. That night, we went to a Mexican restaurant for Cinco de Mayo dinner and out to a German beer garden for a bit. We stayed up too late playing games and having fun. The next day, we had brunch (no one could stomach it after our night before lol) and then headed to Queens for the Mets game! She's a huge Mets fan so that was her biggest priority for the weekend and honestly it was a great time. I'd totally go again. I forget how much I can enjoy baseball when I'm at a game IRL instead of watching on TV. We had a loooong night of travel back to our hotel then CT. I slept over my dad's house again (like I did on Thursday) and lounged around in the morning after majorly catching up on sleep. I headed back to Maine to see Chris, who I definitely missed when I was gone, and was lazy all day.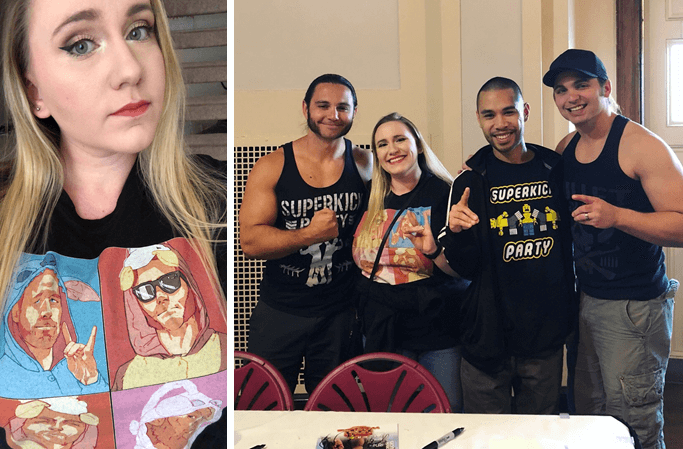 Week 4: ROH in Lowell
The week continued to be busy with a wrestling show in Lowell on Wednesday. We traveled down when I finished work and had dinner at Cracker Barrel. I know no one knows/cares but we were able to do a meet and greet with some of our FAVORITE wrestlers – the Young Bucks. We saw SO MANY other awesome wrestlers since it was a combo New Japan/Ring of Honor show, so there were lots of Japanese wrestlers we love there too. I can't believe we walked by so many of them, including Naito. Ugh it was wonderful. I wish we could have met everyone! It was $40 for a signed print and a photo with the Bucks so we just did one, but it was crazy to see everyone. The show was also WONDERFUL and so so so much fun. Still in awe. Indie shows are so much more fun to watch in person than WWE shows have been so far.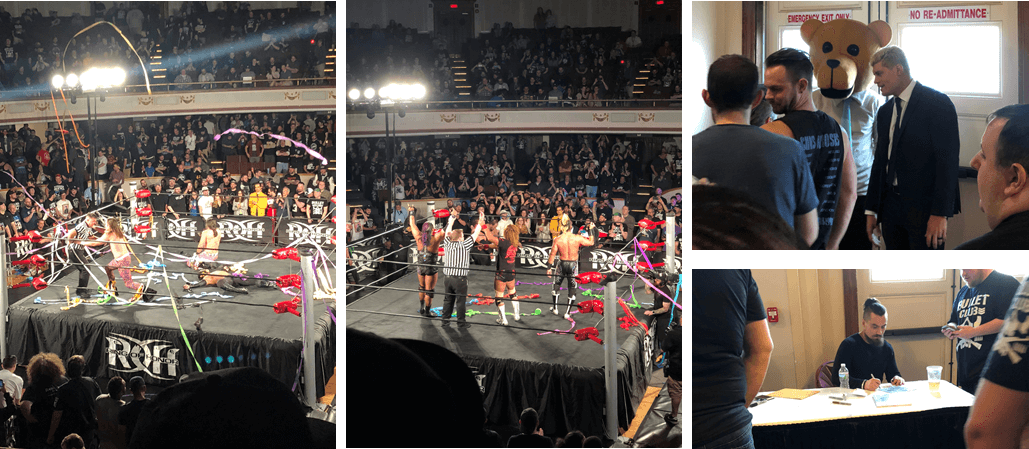 Week 4 Part 2: Peaks Island
The following weekend, I wanted to explore a bit more of Portland while we had a free weekend for once. We decided to see Peaks Island, which is a 20 minute ferry ride off the coast of the city. We ended up leaving on the 10:15 ferry to get an early start and rented a golf cart ASAP when we got onshore. We stopped for a quick breakfast sandwich at the Peaks Cafe and then drove the golf cart around the island to explore. It's only about 3 miles worth of roads, which was the perfect size for a two hour rental. We went to the Battery Steele, a creepy monument kind of thing that you could stand on the top of and see the ocean. It was pretty once you were up there! We rode the cart around the island 1.5 times to explore by the water and stopped a couple of times to take in the ocean and small beaches. We returned the cart and grabbed some lunch at the Cockeyed Gull, which luckily had an outdoor table available so we had a water view. The food was okay. We went into a gift shop and then laid out on a hill to relax until the ferry home. It was a really great way to spend a half day and I'm sure if we prepared better (brought a blanket/backpacks) we could have spent even more time there.

---

TV Shows
Being the Elite | My favorite YouTube show is back! I knew they wouldn't officially end it, like they said they would, so this was awesome to see again. I'm totally curious to know where they go with things next because it's kind of wide open. ROH and NJPW have been wonderful lately and BTE being back is the cherry on top.
Great British Baking Show | I went away for the weekend and Chris was like "oh I started watching this random show after hearing about it on a podcast" and lo and behold, it was GBBO – a show I've seen talked about incessantly for the past couple of years. I told myself I'd never like it or get into it… but fell down the rabbit hole IMMEDIATELY. It's the polar opposite of the more cutthroat kitchen shows, which makes me so happy. Everyone is friendly and nice and supportive!! What did we do to deserve this wonderfulness??
Movies
Blockers | I liked this movie quite a bit when we were watching it! Chris thought it was pretty good but he's pickier than me. I'm a huge John Cena fan and actually love the rest of the "adult" cast as well, so it was really fun. The story is absurd, of course, but there were sooo many jokes that you literally need to see the movie more than once to hear everything. People were still laughing about one thing when the next thing happened. If you thought the preview looked good, I think you'll like it.
Infinity War | UUUUHHHHH YEAH. Talk about a fucking cinematic masterpiece. I loved it so much. During the movie, we were both thinking about how we need to see it again already. We don't like seeing movies more than once in theaters either, so that's a high compliment. I highly enjoyed it and cannot wait for more Marvel things to come. Amazing. Shit dude.
Podcasts & Music
The 9 Club | I enjoy watching skateboarding, both professionals and my boyfriend. We follow some events pretty closely each year too. Chris is a bigger fan than me, of course, but I like this podcast! I have a few favorite skaters so I downloaded a bunch of those episodes to listen to when I feel in the mood.
Talk is Jericho | I obviously love Chris Jericho and his podcast can be fun! Like the previous podcast here, I only download and listen to episodes that feature people I like or know. I don't want to get bogged down with listening too much when I don't have a real need to. I loved the episode with the Young Bucks!
---

Food & Drink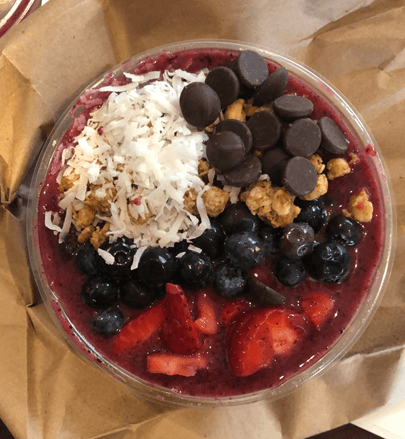 Exploring restaurants | Our biggest focus over the last month (and the next month going forward) is trying to explore some local restaurants while we can. You really can't get a better restaurant situation than Portland. They have SO many places to choose from just about anywhere in a 10 mile radius. I've been super lazy about cooking too, so it's really a win-win in these past few weeks.
Trader Joe's food | I said this last month, but my Trader Joe's addiction is going pretty strong. I love their food in just about every aisle! They have so many pre-marinated meats, salads, burritos, and frozen foods that make my life so easy right now. We're trying to eat better and quicker (so we have more time to do things) and they really help us on both fronts. When I went away for four days, Chris ate a lot of TJ's food to keep it easy without me there to help cook. (He cleans, I cook. It works well but makes it hard when he's solo haha).
Smoothie bowls | I tried a smoothie bowl for the first time a couple of weeks ago and it was really good! So much more filling than I expected. I wanted a light lunch before having a bad-food weekend and it definitely hit the spot. I hope to get going on a few more too!
Purchases & Addictions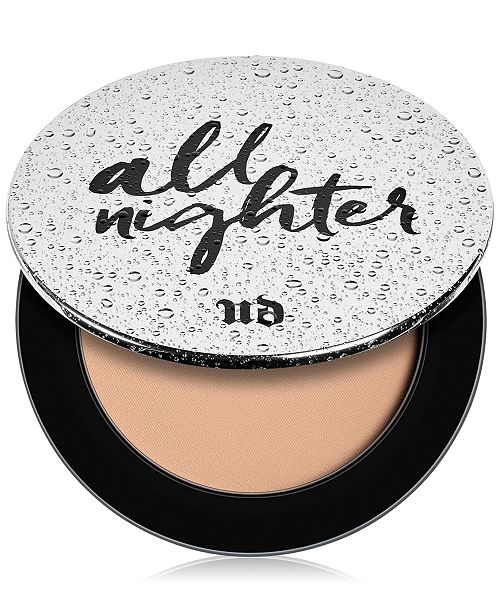 Makeup and skincare things | I did a full round-up of this in a two part blog series (skincare and makeup) after posting some initial finds in last month's LL post. I've changed out some things already and added new stuff to the arsenal as well. We'll see how far I go with what I've acquired before I decide to write another post! Here are some AMAZING highlights though:
Coty Airspun Loose Powder: This is an absolute cult favorite. My friend works at Coty and I'm pretty sure they don't even do marketing for this powder anymore because of its following. They haven't changed the formula in like 50 years and this shit WORKS. It's only $5-7 my dudes!
Supergoop CC Cream / Sunscreen: Oh god, this combined with the Coty powder… folks, I went nearly 10 hours with this on my face and I kid you not, there was not a single drip of oil or greasiness on my face. It was insane. Super light coverage, so I used a CC powder on top for more, but holy moly… The combo of these two = holy grail for "light makeup" days.
Natural Premium Charcoal Oil Blotting Papers: I actually haven't used these yet because I haven't had the need, but I wanted to highlight them anyways. People seem to love them. Amazon has nearly 1,000 reviews and their average rating is 4.5 stars.
Urban Decay All Nighter Waterproof Setting Powder: My friend discovered this on Instagram a month before it was going to be released and we've been anxiously waiting for it ever since! I was hoping it would solve my oil-related issues. I went to Sephora the MOMENT I noticed it was in stock and they had to rifle through boxes in the back to get it for me. WHOOPS not sorry. I actually loved this too – it really worked in keeping me matte all day, way better than many other products I've tried lately!
Makeup Brushes: I found these on Amazon and holy moly are they cheap with a high rating! I'm picky about brushes and sponges, but could not resist. They're regularly $8 for the set but there was a weird coupon where I got them for $5. They're super soft and nice. Nearly 5,000 reviews with a 4.5 star rating!
Melody Sue Makeup Brush Cleaner Brush Egg: I've seen these around for a while and decided to give them a try. They have a few sizes and I elected to get the one that fits two fingers. You just slide it over them and hold it in place, then rub your soapy brush to get it clean. This two pack was $6 and soooo worth it. I hate cleaning my brushes and this is easy (especially when you clean them with castile soap too).
Body Anti-Chafe Balm: I ordered this before heading to NYC for a Bachelorette weekend and it did a great job. I decided at the last minute to wear a dress because it was going to be warmer and we'd be walking around a lot, and it worked SO WELL. I spread it on my thighs like deodorant and ended up not having any kind of chafing, redness, soreness, etc. – it was awesome. I had a horrible experience once in NYC back during college where my legs were utterly raw after walking all day and took a leap of faith that this would work. This size was only $5 so I'd highly recommend it. It creates a nice coating on your skin so when they rub together, you don't even notice it.
Around the Blogosphere
YA Set in College @ Girl in the Pages | I love YA books where the main characters are in college or heading off to college. I totally agree that we need more of these books that fit under that umbrella! I like NA just fine but sometimes I'm not in the mood for the stereotypical angst that gets in there. I've enjoyed a few college-oriented YA books lately and Cristina does a nice post about this 🙂
How My Reading Preferences Have Changed @ Novel Ink | I've noticed a big shift in my reading preferences and habits since I started blogging, and again even more recently. As my life changes and gets busier or lazier depending on the season/year/location, I notice my reading shifting depending on that. I really enjoyed this post and hope to write something similar soon!
Eight Low Rated Books I Loved @ Girl in the Pages | You may recall my post like this too! It's really interesting to see what other people list for theirs. She also did a follow-up about highly rated books she was underwhelmed by, and I plan on doing a flavor of this too!
If You Liked… Stranger Things @ The Book Addict's Guide | I loved this show and wanted to bookmark these recommendations! I don't read a lot of sci-fi-like books, so I thought it'd be a nice push out of my comfort zone.
We're Moving to NYC @ Super Space Chick | It was so interesting read this and see how crazy the NYC rental market is! I'm not surprised given how many people live there and how hard it is to find affordable housing. I'm really looking forward to seeing more of Kristin's pictures of their new space. It seems awesome and they definitely had some luck on their side 😉
Listmania: Hockey Books @ Mary Had a Little Book Blog | I have to admit that hockey is lower on my list of books to read about or sports to watch. Mary loves them, so I wanted to bookmark this one! I loooooved this series an absurd amount so you'd think I'd be more into hockey books.
---

Last Month's Goals & Progress
1. Try 2-3 new restaurants | PASS | I'm going to say pass because I'm pretty positive we succeeded. We had some brunch out and went downtown a bit more over the past month. I recapped everything earlier!
2. Try 4-5 new trails | FAIL? | This month has been wacky with Chris's work schedule, our trip home, and my travel weekend. We haven't had a lot of time for hiking but we will be going to Acadia this weekend!!! I do hope we finish this goal before we move home.
3. Meal plan even better | PASS-ish | I think I did well on this, kind of. I've been buying similar groceries every time I go to Trader Joe's and try different combinations of the foods. I like to make easy veggies sometimes and throw things on a pan, so I can mix and match. I do a decent job of meal planning.
Goals Until Next Time
1. Save money and pay everything that needs to be paid | This is a tough one to quantify but we have soooo many expenses coming up, which is a big challenge. We're moving home and obviously the security deposit thing is always a frustrating thing because you need one before you move out for your new place, which is always at least 1-2 months before you get your old one back from the place you left. We also have our California trip at the end of June, Acadia trip this weekend, and other things we need to do around Portland to enjoy our time here. In any case, there's a lot of $$$ flying around and I want to make sure we get everything handled.
2. Check off 8-10 items on the Bucket List | I made a Portland bucket list to follow before we move home and there are like 15 things on there, maybe? By the time the next LL happens, it'll be June 15th and we'll only have TWO WEEKS left here. So I definitely hope to explore manyyy of the restaurants, museums, trails, and activities before we move home.
3. Plan out the most seamless moving-out process ever | Long story short, we have all of our shit in multiple locations. We'll be moving out of Portland alone and renting a small-ish U-Haul for that stuff. We'll need to also get a lot of our stuff out of Chris's parents' basement at some point, so hopefully we can do that while we have the U-Haul for the day. I don't want to be stressed and do too much though. I need to plan out the best course of action to get everything done.
What's Next
Man, what ISN'T up next?! We're heading to Bar Harbor and Acadia National Park this weekend, which is going to be beautiful and I'm sooo excited. We're doing some prep work this week to get ready. We have another free weekend afterwards to do Portland-centered things. Then, we have Alaina's wedding the first weekend of June. We have another free weekend or two I believe before the middle/end of June gets even crazier. I hope to see a Portland Sea Dogs baseball game this month, explore some new trails, check out restaurants on my list, etc. It's going to be busy and fun around here for sure.
---
Talk to meeeee! What's new?
Related Posts