I loved Nick's post about her organized mood reading a while back and decided to share something similar here! As you've noticed, I've been curating and posting monthly TBRs here for over a year now. I love having something to guide my reading, for the most part, without making me feel too pressured. I have nothing to lose if I DON'T follow my TBR, but it's the perfect thing to get me on track if I'm losing ideas of what I need or want to read next. I am a mood reader for sure, but those tendencies have faded a little now that I have (a) some semblance of organization and (b) deadlines I can't get around sometimes. When I pull together my monthly TBR posts, there are a few factors I take into consideration and a handful of places I look to get ideas. I should also mention my life would be a MESS without Crini's book spreadsheets each year. The pictures you see below will come from that SS. Here's how I develop my monthly TBRs…
Step 1: Look at upcoming deadlines
Deadlines here can mean just about anything – self-imposed due dates, book club meetings, library book due dates, and blog tour posts. I always have at least 1-2 of these per month, so that's the first thing I check when developing a TBR list. What is coming due?
I use my book spreadsheet and add a tab for some of these due dates. This tab is called "Bingo/TBRs" (more on bingo later). I list pretty much everything with a deadline in the Required Reading section and note why it's due. You'll see library books, book club, and blog tours, like I mentioned. I also keep our book club picks right next to it just in case I need them. I pull these books from my required reading list and add them to my TBR for the month. For September, I would include TO RIGHT THE WRONGS for the library due date and IN OTHER LANDS for book club. If I want to get ahead, I could pull from October due dates too depending on if I'm going to be in the mood to read them.
Step 2: Check ARC release dates
This is kind of subsection of the first one because these have "due dates" aka release dates, but they're more loose technically. If I have a blog tour, there's no wiggle room – I MUST read the book in time. If the book is from the publisher, I attempt to read it right around when it's due to post a review… but the police aren't going to come if I don't read it right away either.
I need to be better about tracking my books for review like Nick talked about in her post. I am so bad at it. I just use my Goodreads shelves and look at the ARC-Kindle and ARC-physical shelves. I sort them by pub date and see which are coming due in the next month. As you can see above, I am ON POINT for the next few months. I finished my September ARCs and some of my October ones. This is when I'd try to get ahead and include some later ARCs I hope to read, or just not include that as a part of my TBR post (which is what happened in September – I was burnt out from ARCs from ARC August and wanted flexibility).
Step 3: Look at monthly events and seasonal bingo
I participate in plenty of readathons throughout the year, as well as a new seasonal bingo card. My August TBR post would include some books I set out to read for ARC August, since that's a month-long readathon. I also do Bout of Books multiple times per year. For bingo-related reads, the one below is the Summer Bingo, taking place during June, July, and August. I usually come pretty close to finishing up the cards because I make a lot of my TBR around these squares. I often make dedicated TBR posts for the season too, like this Summer TBR Lists: Bingo and Seasonal Reads post.
Those TBR posts are helpful when I'm stuck trying to figure out which books fit with each box. I will go through and literally match them all up based on books I've been generally planning on reading in the near future. I reference those TBR posts when pulling together these TBR posts, as I usually need a nudge to finish the card (or just get as many bingos as possible). The new Fall Bingo card will come out for September, October, and November, which means I probably wouldn't include any books on the September TBR post specifically for Bingo (and I will probably make a dedicated Fall Bingo TBR post). However, I would include some in my August TBR post because I'd be like "oh shit, one month left to finish the card!" Hopefully that wasn't too long and drawn-out but I TAKE MY BINGO SERIOUSLY Y'ALL.
Step 4: Check in on yearly challenge progress
Just like I participate in monthly challenges, I also participate in yearly ones. (I LOVE CHALLENGES.) I track these in my spreadsheet as well. This year I picked a few different ones, instead of doing genre-based challenges. These are more in the bingo-style, where they have prompts instead of open-ended reading. The Netgalley/Edelweiss Challenge is obviously different here because it's just about reading books on NG & EW, but my goal is to get my percentage to 80% by the end of the year.
As you can see from the other challenges, I was able to include the prompt, the book once I've read it, and the month I read it in. That way, I can track which monthly wrap-up it goes in. There are some blank spots because I haven't finished them yet. When it gets closer and closer to the end of the year, checking in on my yearly challenges becomes super important for developing my TBR. September through December will be heavy on these challenge books to make sure I complete everything. I will develop my TBR to check off as many of these as possible.
Step 5: Browse Goodreads shelves for upcoming books
I have a lot of shelves on Goodreads for tracking different types of books. I'll often go through and see if there are any upcoming books I'm REALLY looking forward to and think I'll try to read during release month. I already talked about ARCs publishing and adding those, so this is definitely the final pass for developing my TBR with books I would either buy, request from the library, or find on Scribd/Hoopla.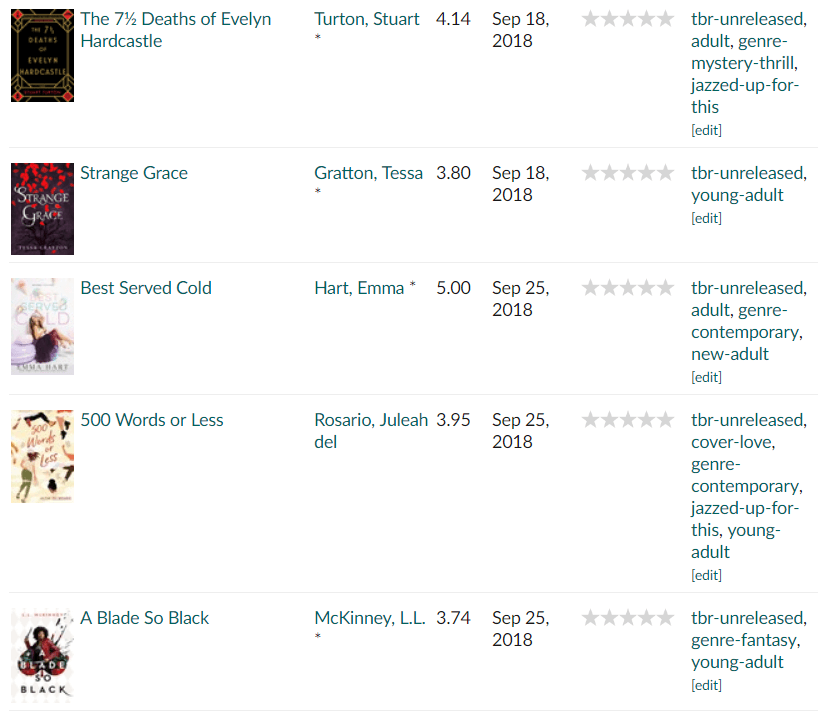 This is from my TBR-unreleased shelf. I go in and sort it by release date, then see which books are being released in the following month. I also have a jazzed-up-for-this shelf for the books I'm SUPER excited for. Usually those would be the ones that could make it onto my monthly TBR.
Step 6: Double-check format variety and add audiobooks
I try to have a variety of book formats on my list. Like I mentioned in some of these other categories, I could have a mix of library books, egalleys, and owned books ready to go because of various due dates. If I didn't create specific categories yet, I'll do that here. Most of my TBR posts have headings like this:
Series Binge Read
Upcoming Egalleys / ARCs
Library Books
Audiobooks
Books with Due Dates
Seasonal Reads
Bingo Card
Miscellaneous Reads
These categories are usually fleshed out with 2+ books, so I'll fluff them up more if they aren't quite full yet. For example, if I only have one ARC that is due in September, I'll probably toss in one or two more ARCs with later due dates just to give myself options when I'm in the mood to get ahead. This is true for all of the categories/headings. I usually don't like to leave just one book in each one!
Aside from that, I usually plan which 2-3 audiobooks I might read for the month. I like to pick these kind of randomly, based on mood or other reading goals. I started an audio reread of the SUMMER series by Jenny Han in early August, so I knew I wanted to listen to IT'S NOT SUMMER WITHOUT YOU and WE'LL ALWAYS HAVE SUMMER as my two audio picks. I listen to a lot of podcasts too, so I don't like to overwhelm myself in this category.
Step 7: Include books I've been in the mood for
and/or are carry-overs from the previous month(s)
Sometimes I just let my mood reading take over and I'll include whatever random books from my TBR that I've been craving lately. For example, my coworker recommended the Rose Gardner Mystery books to me a while back and I haven't stopped thinking of them. I figured I could do a little binge-read during September (now that ARC August would be over), so those were immediately added to that September TBR post.
I also include some carried over books from the previous months. This could include ARCs I was supposed to read but never got too, books I was too ambitious about when I added them on, or library books I just got but the due dates haven't happened yet. It could be anything; they just weren't read in the previous month and now I want to give them a shot still.
Related Posts