I've been doing these resolutions for the past couple of years and found that it's a really nice way to keep track of some goals for the upcoming year. I'll be honest when I say that generally "resolutions" or the "clean slate of a new year" isn't my shtick, but sometimes the marking of a new year just helps when setting new goals. It's an easy marker of time and that's about it. You can find 2015, 2016, 2017, 2018, and 2019 resolutions as well.

Continue to not feel pressured to read and enjoy other hobbies | As usual, this stays on my list for the next year! I always want to make sure I balance out my days/weeks with reading, audiobooks, podcasts, YouTube, other TV shows, and spending quality time with Chris. My goal of 120 books was super manageable last year because, as usual, I got a little ahead during certain months and it balanced out for later months with less reading.
Read 50% or less contemporary novels | Yet again, can I make this one work?! I really hope the challenges below help me read more mysteries and other genres. I got VERY close in 2019 with reading other genres.
Curate a monthly TBR with a lot of variety | I'm planning a post for this in the new year as an update to last year's Anatomy of a TBR Post. I want to do a better job of really adding variety, including backlist titles and other genre requirements, to make my TBRs nice and robust.
Focus on getting my Netgalley ratio above 80% | I mention this casually each year but I am really hoping I can get this to where I want it to be. At the time of writing this post I'm at 72% (with expectations of it being higher with all of the Christmassy review copies I have) and I know 80% is possible. With my personal unhaul challenge below, I also hope to try some backlist egalleys in the same way.
Put work into the Nostalgia Project | I've been saying for years that I really need to put some focus on this project again. I've been wanting to reread Gossip Girl for years now but just haven't allotted the time for it. I had so much fun taking time away from review copies and TBRs when I reread The A-List with Cristina, so I just have to take the plunge again. Or, for godssake, finish the Private series!
Finish Saga and multiple other series | I don't want to put a set number on this or TBR in place necessarily, but I do need to do another series-related page in my bullet journal to figure out how I can finally finish some off. I'm not even sure which ones I'm behind on at this point.

Run my blog the way I want to | I'm probably going to keep this as the only bloggy goal this year. I just don't care about a lot of things when it comes to my blog. I like making it a personal reflection place where I can track life events and my reading as well. I enjoy connecting with people and just sharing whatever I want, so I hope to keep that up next year.

Pay off my credit cards | Why is this one here every time? Sigh. I really want to get this done so I can save money and not be an idiot anymore. I have to do a better job of putting my bonuses and commission there so I can pay everything off and be done with it.
Set up auto-pay on every single bill | I'm like 90% of the way there. I think my student loan is the only one that's not automatically taken out maybe? That's such a huge chunk of change but once I get that specific account where I want it to be, it'll be fine.
Get out of the house on 2+ weeknights | We usually get a little stir-crazy during the week after work, so we're trying to be better about getting out… even if that means having one beer and an appetizer after work at a brewery or happy hour.
Organize the house from top to bottom and keep it that way | I think this will be relatively easy in the Spring since I've been inspired lately to organize and reorganize the house. We're hoping to get a larger TV around January/February, which means we may lay out the living room in a new way.
Save money for a goddamn wedding | Sigh. I don't want to think about this but now that we've started looking at venues and plotting things out for real, we just need to think about paying for the damn thing.
---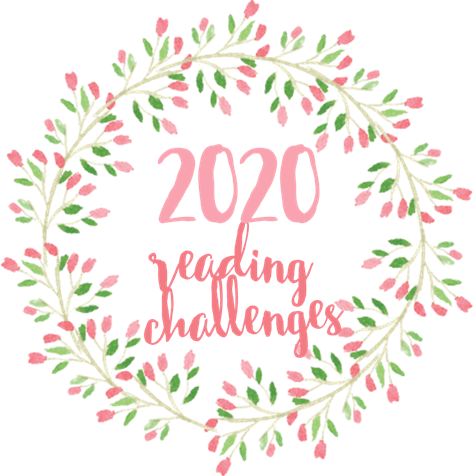 2020 PopSugar Reading Challenge
Hosted by PopSugar
Challenge: Read books that fit the 40 normal and 10 advanced prompts. I'll be pulling from both sections simultaneously because there are a few in the advanced section that are more appealing to me. I like the idea of this challenge of specific goals and the sense of community when reading off of the list. I've been a part of the Goodreads group for a while now. This is my third year doing this challenge!
Personal goal: Complete 40/50 challenge prompts (all 50 if possible as a stretch goal!)
Details: The prompts are below in the graphic (too long for the page, so I used a scroll box).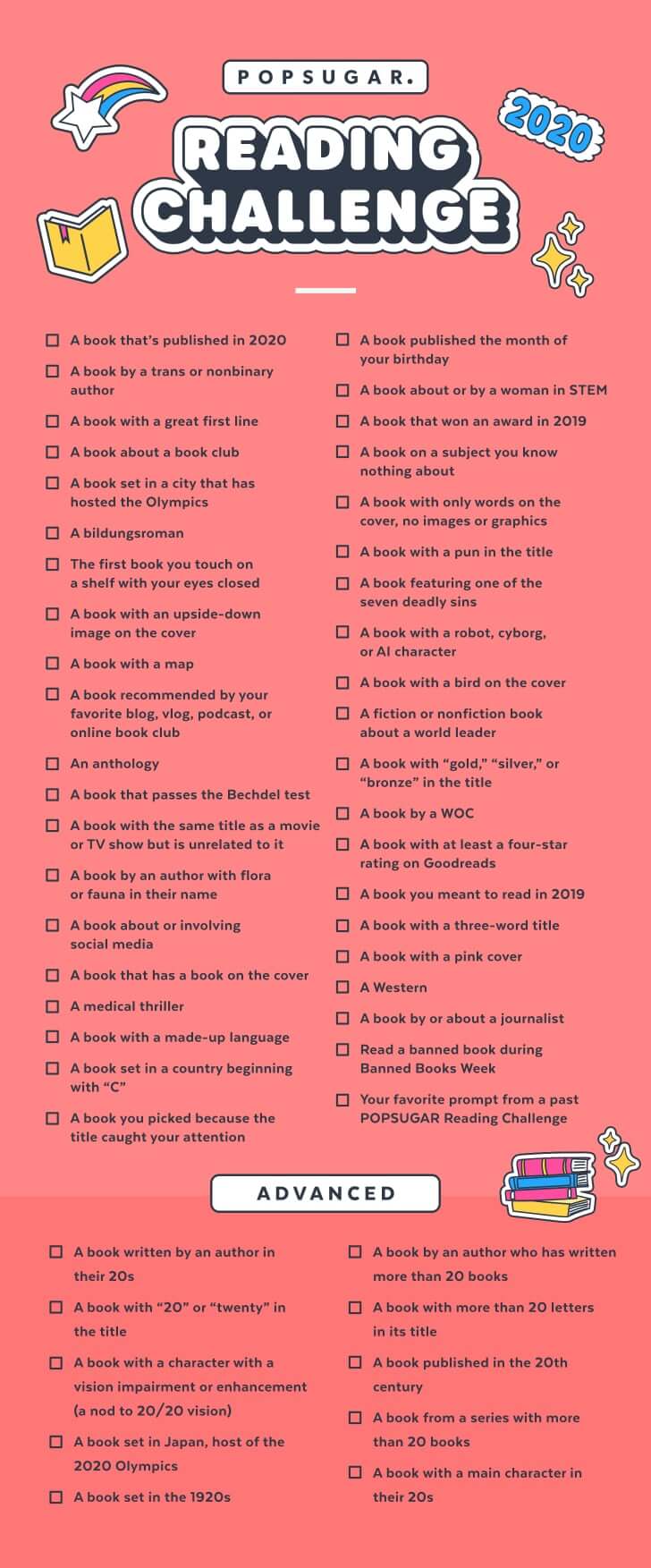 List of TBR ideas to come in a separate post, will link later!
---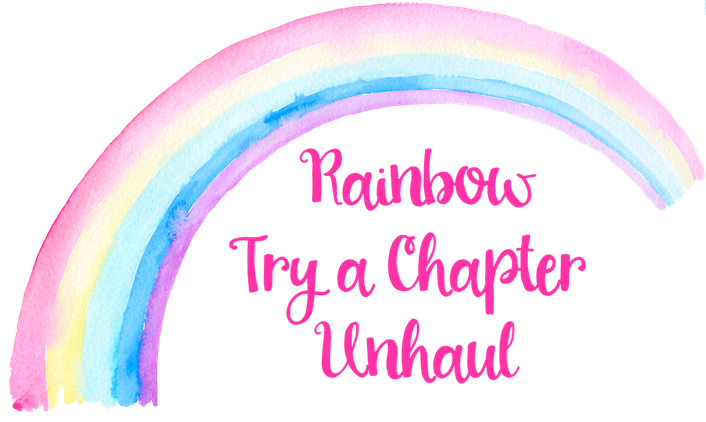 Challenge: This is my own personal challenge that I discussed HERE. I don't plan on making a linkup or making this into an official challenge, but you're welcome to join me if you'd like. The idea is that each month of the year has a color assigned to it (based on the rainbow plus a few lighter/darker colors because I needed 12!). I have to pull two books from my physical shelves during the month and try the first chapter in each of them. If I'm compelled to continue, I have to do so right then. The book can stay on my shelves. If I don't like the first chapter and it doesn't call me to read it right then, I have to unhaul it, donate it, sell it, etc. The goal is to get rid of books from my shelves I won't actually read, and READ the ones that are unread. I also hope that if both of the books don't compel me to read and I unhaul the two I selected, that I keep going with that color until ONE sticks. I'll be able to get rid of even more books that way.
Details: I won't be making a TBR with the specific books until the month approaches, but here are the colors for each month that I will be basing my TBR on, plus my reasoning for why each month has that specific color associated with it:
JANUARY || White (for the color of snow and wintertime)
FEBRUARY || Light pink (for Valentines Day)
MARCH || Green (for St. Patrick's Day and greenery in springtime)
APRIL || Darker blue (for mom's birthday month and favorite color)
MAY || Purple (for purple May flowers)
JUNE || Yellow (for the sun for the start of summertime)
JULY || Orange (another color that reminds me of the sun/summer)
AUGUST || Light blue (for the color of the sky for the end of summer)
SEPTEMBER || Darker pink (for my favorite color in my birthday month!)
OCTOBER || Black (for Halloween and spooky times)
NOVEMBER || Brown (for fall leaves)
DECEMBER || Red (for one half of the Christmas colors)
---
Calendar of Crime | Hosted by My Readers Block
Challenge: Read books that fit the monthly "calendar of crime" as discussed further below. Each of the months have nine (kind of ten) available prompts to guide your selection of a mystery book for that month. The mystery/crime books need to have that as the main genre or theme, but you can definitely have romance, paranormal, etc. elements too.
Personal goal: Complete all 12 prompts, one for each month. This will be a great way for me to keep up with reading the mystery/thrillers that I've been loving so much! I also have a side-goal of making sure I complete each of these prompts once – I don't want to skip any of them, even if they're hard. That gives me 8 months out of 12 with a specific prompt from the first eight options, the wild card birthday month (September – I can read any mystery), and then the final prompt based on the theme for at 10th month.
Details: The general idea is that you have to read based on something related to the given month. I made a spreadsheet after doing a ton of research for this one but didn't pick out a specific TBR. I might add it later here once I narrow down some choices. The prompts broadly include the following, with a more detailed image below:
This month is in the title
The author was born in this month
The primary action of the book takes place in this month
Centered around *insert major holiday of this month* (ex: Valentine's Day in February)
Centered around any other holiday within this month
Book was originally published in this month
Book title has a word starting with the month's letter (ex: word with F for February)
Month-related item on the cover (ex: for February: hearts, a couple, bow and arrow)
Wild card selection if its your birthday month OR a different theme (see below)
---
Monthly Key Word Reading Challenge | Hosted by Girlxoxo
Challenge: Read books that include at least one of that month's key words in the title. This is similar to the monthly motif version I did last year, also hosted at Girlxoxo, but this is specifically about titles. Each month has six key words provided and you need to read a book with one or more of those in the title. You can also be a little looser with the rules – key words can be tweaked. (For example, if the word is "fire" you can also read books with "ash" or "cinder" instead, as they kind of mean the same thing. If the word is "food" then you could read "cake" or "pizza" in the title.)
Personal goal: Complete all 12 prompts, one for each month. My general stretch goal would be two per month, like I did last year with the motifs, but we'll see! I'm also *hoping* to pull specifically from backlist books that I should have read in recent years. I know this could be more challenging but I seriously want to try!
Details/TBR ideas: The list of six key words assigned to each month is below, and I'm including a few book options for each month based on the backlist titles I really want to read. (I also didn't search Goodreads for books with the simple words like "the" or "this" because those are easy.)
JANUARY – Water, This, Hello, Sun, New, Six
FEBRUARY – Girl, Any, Love, Red, Note, Throne
MARCH – Dream, Day, In, House, Luck, Friend
APRIL – Lost, Below, City, Jewel, Night, My
MAY – Sky, Name, Blue, Book, Enchant, Is
JUNE – And, Beach, Number, Wish, Down, Word
JULY – Boy, Last, Day, Into, Dear, Summer
AUGUST – Kiss, Flower, When, Happy, North, Right
SEPTEMBER – Star, Cry, She, Window, Forever, Eye
OCTOBER – Haunt, Around, Shadow, Grave, Murder, Deep
NOVEMBER – Look, Forest, Out, Color, Lock, Now
DECEMBER – Sword, Magic, Fly, Of, Silver, Crown
Related Posts