The Bookmark Lit Bulletin was created to wrap up each month and prepare for the next. I share my life happenings, book haul, books I read and reviewed, posts I shared, challenge updates, and more from the previous month. I also let you know what may be coming up on the blog in the coming month. You can read past bulletins here and learn more about the feature here.
---

I guess the biggest recent development for me is the fact that I, as usual, became football-obsessed during free agency. I had to keep track of what all the teams were doing (and what my team was NOT doing, as usual). I had a pretty busy month overall. Chris and I took a day trip down to the southern part of the state to visit a different Lego store and an indie book store. I had a boring day at Jury Duty that led to me reading two books, which was pretty awesome. I went out to dinner for my dad's birthday and my stepmom's birthday; they're unoriginal and both pick the same restaurant. We also went to a Lego event that took place up at Yankee Candle Village. I bought a lot of things I didn't need and we participated in some Lego stuff that was meant for little kids. I went to my friend's birthday party that consisted of galactic bowling, so that was fun! I love seeing her and spending time with my other friend that I don't see often. Last weekend we went to the Wrentham Outlets up in Mass to do some tax return money spending. (Well, Chris's came in but mine didn't, so I got to watch with sadness as he spent a lot of money on nice stuff.) This past weekend Chris and I volunteered at a food drive for a full 12 hours. He needed to get hours for his class's community service requirement, but it still feels good to volunteer. I also spent lots of money on a Foxy Dori and related journals, accessories, and inserts! I'll be sharing more about that very soon.
---

This book was a slower reading month for me because I decided to lower my Goodreads challenge. I found myself rushing through books and trying to finish them just to maintain my goal or exceed it. I want to do other things besides read sometimes, and now I have the freedom to watch TV without feeling like I should be reading! It was a GREAT month for reading, as far as the actual books were concerned… My average rating was nearly 4.5 stars!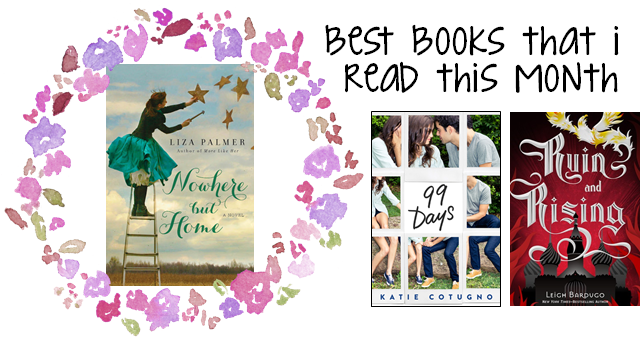 ---

---

Keep up with my full list of 2015 challenges here!
Fairytale Retelling Challenge | 2/15 books read | None this month
Reread Challenge | 4/17 books read | Harry Potter and the Prisoner of Azkaban, Harry Potter and the Goblet of Fire by JK Rowling
105 Challenge | 36/105 books read | Station Eleven by Emily St. John Mandel [new releases]; This is What Happy Looks Like by Jennifer E. Smith [YA contemporary]; Harry Potter and the Prisoner of Azkaban by JK Rowling, Harry Potter and the Goblet of Fire by JK Rowling, Ruin and Rising by Leigh Bardugo [author previously read]; Things We Know by Heart by Jessi Kirby, 99 Days by Kate Cotungo [ARCs]; Nowhere But Home by Liza Palmer [out of comfort zone]
TBR Pile Challenge | 4/12 books read | Nowhere But Home by Liza Palmer
Library Challenge | 6/28 books read | This is What Happy Looks Like by Jennifer E. Smith, Station Eleven by Emily St. John Mandel, Ruin and Rising by Leigh Bardugo
Flights of Fantasy Challenge | 10/20 books read | Ruin and Rising by Leigh Bardugo
Audiobook Challenge | 9/35 audiobooks listened to | Harry Potter and the Prisoner of Azkaban by JK Rowling, Harry Potter and the Goblet of Fire by JK Rowling
Series a Month Challenge | None this month
Blog Organization Challenge | Some updating around the blog (in old posts) throughout the month, revamped blog design completely
---
---

---
"It's what we're all trying to do, right? Remember a time that was better. Re-create a moment of that memory as we let the crisp Coke bubble down our throats. Riding bikes on a summer day. Sitting on the curb and watching the streetlights come on. Playing in the sprinklers with a group of neighbor kids. We're all trying to salvage a time when we dreamed beyond our reality and thought monsters were under our beds instead of peppering our family trees. We're trying to harness those fleeting moments that turned our ordinary lives into something extraordinary. In the sepia haze of those memories, we are beautiful."   ―

Liza Palmer

,

Nowhere But Home
---
Here are some of the posts I highlighted in my feed this month! I really started getting into following more lifestyle and cooking blogs, so now my Bloglovin' feed isn't just bookish things 24/7. I also started focusing on following people that I really want to follow. I went crazy in the beginning and my feed was too large to manage.
---


I've alluded to the fact that I plan to write about my brand new Foxy Dori soon, so you can definitely expect that next month! I've recently gotten some planners, journals, notebooks, washi tape, pens -you name it – to try to keep better organized in all areas of my life. I'm going to write an organization series on the blog to highlight how I keep organized and some of the new planners and journals I've gotten over the past month. I posted one already on what's inside my book bag. April also has a good number of ARC reviews coming and right now I only have three more reviews to write for the month. I love how ahead I am! I wrote a letter to my young adult self, which is a feature created by Ginger starting next month. You can see that on April 9th on my blog. I also wrote a discussion post up about my reading life and how my parents impacted my hobbies. I've always been a reader and was inspired by Kristen's post on being a lifelong reader thanks to her family members. As usual, I'll have my Book Buddies review at the end of the month with Cristina, Top Ten Tuesday posts, and two new guests on my Inside & Out feature.
---
This April is going to be full of books, I hope! After a slow month of reading, I've been CRAVING books like nobody's business. It's been so hard for me to pick what book I want to read next and that's probably why I'm currently reading 4 books at once.
---

I keep posting the same general goals to motivate myself to do them but it really never happens! There have been a few series I've really wanted to finish (primarily Private by Kate Brian) but I'm so bad at just sitting and reading them. I'm such a mood reader that even making a TBR like the one above is hard. It's really just the books I'd like to read but who knows if they'll even happen. I would like to focus more on reading some retellings and/or fantasy books. I absolutely loved A Court of Thorns and Roses by Sarah J. Maas and that was a cool mix of both. My genre moods switch pretty quickly between fantasy and contemporary, so I really never know what book I'll end up with next. As far as blog goals go, I've been writing random drafts to remember discussion posts I want to write, but have yet to finish them. I'm hoping that I can make some new discussion posts and finish the drafts I've started. I'm hoping that the new "blog ideas" journal in my Foxy will motivate me to write things down when I think of them. I guess as a general rule I want to be more organized and stick with writing in the planners and journals I've gotten this year. Oh, and I desperately need to fill out the free budget spreadsheet I downloaded.
---
April is always kind of a crazy month for me, because the excessive amount of birthdays continues! My mom and little sister share a birthday at the end of the month, so I have to somehow balance that. (My sister is my dad's kid from his current marriage, so I can't even combine the festivities with the two of them!) I have friends coming to stay with us Easter weekend too (even though my family is not religious and we don't celebrate it really). My college friend has come home with me every Easter since our freshman year, including the post-grad Easters! Her family is Indian and doesn't celebrate, so she would just come home with me when everyone left school for the weekend. Now it's just a fun tradition where she can hang out with us, eat food, and have my mom try to get us drunk. This year her boyfriend is coming too, so her and I will be third wheels since our two boyfriends are obsessed with each other. Chris and I have also tentatively planned a trip for the following weekend. We've been wanting to go to Vermont to see the different factory tours (Ben and Jerry's, Vermont Teddy Bear, Magic Hat, and Cabot Cheese) so we're MOST LIKELY going to do that.
How was your month? What do you have coming up next?

Related Posts